What does it mean to have trust in your officiating ability? Trust may very well be the most important factor in peak performance. What is trust?
Trusting your refereeing ability means you are performing or officiating in the moment. Trust is relying on your learned skills to perform to your level of ability in any situation. You are neither thinking nor over-analysing, simply doing.
From a playing perspective, a baseball player who has trust in his ability at the plate, believes he can make solid contact with the ball and put the ball in play.
Trust doesn't mean the player won't strike out occasionally, nor does it mean he will get a base hit every time. Trust means the player can swing freely and rely on his training to produce at the plate.
How Does a Lack of Trust Affect Performance?
When you lack trust in your refereeing ability, you have a high level of anxiety, and you officiate tentatively. The uncertainty of what might happen in a match, sets off a fight or flight reaction. Anxiety causes your heart to pound, the game becomes too fast for you to see opportunities and you make poor decisions and uncharacteristic mistakes.
How Does Having Trust in Your Ability Improve Performance?
When you have trust in your ability, you can referee intuitively, almost on autopilot. You officiate with focus but you are not trying to force anything.
When you have trust in your ability, you referee in the moment without thinking about what might happen or over-analysing what you are doing. You officiate intuitively.
Your movements are fluid and efficient. You are immersed in the flow of the game. As you perform the action unfolds in front of you and the game slows down for you.
How do You Gain Trust in Your Ability?
You gain trust through mental and physical preparation. You prepare as if it matters because it does. Every repetition matters. Every drill matters. You give your full attention to doing the little things at a high-level during training.
When it's time to blow the first whistle on matchday, you know you have done all you could to be your best for that fixture and you let go of expectations and just perform in the moment.
National Basketball Association (NBA) side, Philadelphia Sixers, centre, Joel Embiid had his best season in 2021. Embiid was considered by some as the league's Most Valuable Player.
Embiid has steadily improved since he was drafted third overall in 2014. Embiid has slowly developed trust in his game, and it shows as he has led his team in scoring during the 2021 playoffs.
"I've come a long way, but I feel like this year the game just slowed down for me. The way I see the floor is completely different than previous years… I just try to make the best play possible. Even if I got to get a shot up myself, there's so many ways I can do it." – Joel Embiid, Philadelphia Sixers Centre
As seen in Embiid's play, trust is the key to perform at your peak.
You can improve trust in your refereeing ability. The work you do in the mental skills of trust will produce more consistent results.
How to Have Trust in Your Skills:
Trust begins with putting in hours or repetition in training. The most repetition, the more you refine the motor program of the movement.
When you referee, you have to remind yourself that your practice is now complete and it's time to trust what you have. One of my clients described trust as: "Use what I have today."
Also, resist the tendency to over-analyse mistakes and try to refine your technique whilst out in the middle.
At The Third Team I work individually and in collaboration with different professionals where I have developed workshops associated with Resilience and Mental Toughness Development to help referees. The workshops are interactive, where referees are encouraged to open up and share their experiences to help each other.
Feel free to contact me if you'd like to know more about my workshops and how I could help you or your officials.
Best Wishes,
Nathan Sherratt
Referee Educator & Managing Director of The Third Team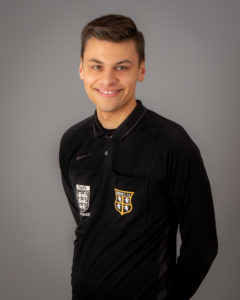 Nathan Sherratt, Referee Educator, Resilience Trainer and Managing Director of The Third Team.  A Mental Toughness Practitioner based in County Durham, North East England.