Are you an overthinker?
You consider yourself a pretty intelligent referee, with a huge amount of knowledge about officiating. You'd class yourself as a student of the game, and really understand how different game plans and strategies can help you achieve a greater level of match control. Is this is a great skill to have?
Yes, it can help you achieve your goals and reach your potential.  
However, where you can have difficulty is after an error in a fixture or when a game doesn't go well for you. How you analyse your performances is such a big thing, and if you get it wrong, it can really harm your Mental Toughness and in turn your future performances.
Overanalysis and overthinking can be a big problem for an intelligent referee.  
Client Case
An example of this is the case of a former client, Sam, a Level 3 referee. His big challenge was overthinking before and during a fixture on which he was being observed. He performed fantastically with no observer present but as soon as the pressure was on, he was a different official. 
Why?
This problem is connected with trying too hard. Often referees and assistants can be guilty of taking themselves and the fixture too seriously. Looking for the impossible, searching for the perfect game.  
So officials need to try less? 
YES! Often trying too hard results in anxiety and refereeing within yourself, losing valuable opportunities to control the game. This can then lead to overanalysing your every move. To show a caution faster, to play an advantage in a risky area or to adopt uncharted patrol paths which lead to you becoming distant from play. These can become serious debates in your head. Leading to indecision, especially when you're under pressure.
Three Tips to Remain Calm 
It's a overused saying but it's true – "stay present"; have strategies up your sleeve so that you don't get ahead of yourself. For example, before a fixture understand what works well for you and can allow you to focus for 90 minutes. Perhaps chatting to a positive or funny person in your officiating team. Perhaps you could use mindfulness techniques to relax you and boost your focus by scanning the environment or scanning your body when the opportunity for quiet time arises.   
Use imagery and sports hypnosis to remind yourself what you look like when you are refereeing well or when you are super confident. How you feel, what you think and what your body language is like.    
Remind yourself that training and practicing your law knowledge is the time for thinking and overanalysing. When you're officiating you're a different animal and allow yourself to go into auto-pilot and matchday mode.
At The Third Team I work individually and in collaboration with different professionals where I have developed workshops and 1-2-1 sessions associated with Resilience and Mental Toughness Development to help referees. The workshops and 1-2-1 sessions are interactive, where referees are encouraged to open up and share their experiences to help themselves and each other.
Feel free to contact me if you'd like to know more about my workshops or 1-2-1 sessions and how I could help you or your officials.
Best Wishes,

Nathan Sherratt
Referee Educator & Managing Director of The Third Team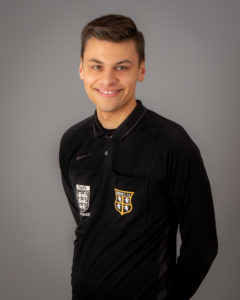 Nathan Sherratt, Referee Educator, Resilience Trainer and Managing Director of The Third Team.  A Mental Toughness Practitioner based in County Durham, North East England.