In this, the third & final of a three part series of blogs on inequality in refereeing, I will examine the effects which inequality surrounding sexuality is having upon the game of football. I'll also delve deeper to consider how referees and their careers are impacted by homophobia.
As I mentioned in the first of this three part series, if you look at The Third Team Logo at the top of this article you will see an officiating team consisting of a black male, mixed race female & a white male. As a mixed race man, who was made very much aware of my difference to the other children around me as a young boy, at the beginning of my education, I have been passionate from the moment I conceived The Third Team that this business would be inclusive and compassionate to all referees. Much as I believe all opportunities in all walks of life should be open to anyone who has the talent for those positions and prejudging on the basis of skin tone, gender, sexuality or whether that person is wearing cultural dress should be a thing of the past.
At a time where we have homosexual representation within the group of officials operating in the English Football League, I will explore the challenges that, all referees who identify themselves as something other than heterosexual, face as they look to climb the refereeing ladder and how they're received on the pitch.
Sexuality in Football
At the present time there are no openly gay male footballers in England's top four divisions. Some, who are supportive of any homosexual player announcing they are gay, have argued that clubs prevent players from "coming out", as footballers have an increasing commercial market value which may be compromised.
In British public life and society, there are many openly gay politicians and entertainers who have continued to be elected and popular with little or no comment on their sexuality. However, football as the nation's national sport, has been distinctly lacking in openly gay men. In spite of this, or possibly because of this, rumours in the press, or comments between fans and players and even hostile homophobic abuse have been commonplace within the game.
Conversely, several high-profile players, such as Lily Parr, Casey Stoney, Kelly Smith and Fara Williams, who have represented the England women's national team over the past decade have come out as lesbian. This is as a result of attitudes around the women's game being more tolerant than the male equivalent.
Justin Fashanu, became in 1990 the first footballer to be openly gay. In his autobiography, Brian Clough recounts a frank conversation he had with Fashanu after hearing rumours that he was going to gay bars: "'Where do you go if you want a loaf of bread?' I asked him. 'A baker's, I suppose.' 'Where do you go if you want a leg of lamb?' 'A butcher's.' 'So why do you keep going to that bloody poofs' club?"'. Fashanu committed suicide in 1998, many have suggested that the tragedy and hostility he was met with after publicly coming out dissuaded other gay footballers from coming out. The coroner said the prejudices he experienced probably overwhelmed him.
"I've had players over the years who were single and read books and so others [other players] said they must be gay. I think being openly gay would be something very difficult to live with in football. You can get drunk and beat up your wife and that's quite acceptable, but if someone were to say 'I'm gay', it's considered awful. It's ridiculous." — Former manager Alan Smith speaking on 'the last taboo in football'.
Ten years ago, the FA made plans to produce a video aimed at condemning anti-gay hate-chants in stadiums. It was widely reported at the time that no Premier League player was willing to endorse the video and production was scrapped. Many said that players were scared to associate themselves with the concept of homosexuality.
In 2013, Stonewall in conjunction with Paddy Power, launched the 'Right Behind Gay Footballers' campaign, distributing rainbow coloured laces to every professional football player in the UK. The Rainbow Laces campaign is now an annual event. During the first run of the initiative, players from 52 different clubs wore the laces to show solidarity with gay players and the campaign received over 320 million Twitter impressions, making it the one of the most successful Twitter campaigns in the UK to date.
English professional football has only ever had 3 openly gay professionals who have played in the football league. Following the case of Fashanu, the following two chose to wait and came out after their English football careers had ended.
How Sexuality Affects Referees
In 2017 Ryan Atkin became the first openly gay referee in English football. In a recent interview he recounted a story about how, shortly after coming out, he was refereeing a game between Wealdstone and Chelmsford City in the National League South, and upon him awarding a free kick near the touchline. He heard an older gentleman spectator shout "You can tell he's one of them because of his haircut". Atkin said of this incident: "I just turned around and laughed at him. It was stronger for me to turn and laugh at the spectator."
That incident came in only Atkin's second match after coming out, he admitted fearing if comments such as that would be something he would have to face on a weekly basis when out refereeing. He now reflects that, thankfully, that hasn't been the case and it remains the only such comment that Atkin has heard at a game: "Nothing has changed for me personally. I'm more of an advocate for LGBTs within the sport in general I go into quite a few schools now and talk about sport and equality and diversity – but I haven't been treated any differently."
On the contrary, Atkin feels that he has experienced an unexpected positive side-effect. He now feels that, his sexuality is not a barrier to his professional ambitions, and that coming out has actually improved his refereeing:
"It has helped me to be who I am, and I think that's reflected by the observations that I've had where I've received greater praise in the assessments from the bodies. When I'm dealing with players, or I'm dealing with situations on the field of play, it's actually really me rather than referee Ryan putting his hat on. I'm giving my whole self to something rather than 98% – and that 2% can make a massive difference, especially in sport."
Atkin has talked of his hope that the extra 2% he alluded to is what will help his career advance. Between 2009-16, he worked as an assistant referee in the Football League, up to Championship level, from the 2016/17 season onwards he turned his attentions to the specialist refereeing pathway. Speaking of his ultimate officiating ambitions he said: "My short-term goal is to get to the Football League. My long-term goal would be to get to the Premier League."
Besides being an inspiration for young gay referees with aspirations of officiating at a professional level, Atkin is also supporting a wider cause for LGBT rights within a multitude of sports: "Football does need individuals to step up. We've seen it within athletics, we've seen it within rugby where you've got key figures now who are champions of it, and I think football now needs that."
Though Atkin has had an overwhelmingly positive personal experience, he thinks that the amount of homophobic abuse at football grounds is incalculable. "There is a lot of data that is missing around diversity and inclusion," he states.
"This needs to come from the leagues, it's got to come from the people at the top wanting to drive equality. It could be just pockets of people [who're homophobically abusing players, officials, club staff and fellow spectators] – and I think that is the case, it is pockets – but pockets of people breed contempt, they breed the notion that it's comfortable within numbers to do it. It does need to be dealt with. Racism, homophobia, they all need to be removed from the game and treated all under the same title which is discrimination. Football needs to decide on its values, and what behaviours it will allow from individuals."
Atkin has called for all Premier League and EFL clubs to be: "signed up to the same policy to deal with discrimination and diversity and how the deal with individuals, and ensure they are handed over to the police."
As there is a dearth of money in the coffers of charities addressing homophobia in football, which is barrier (a fact which is tough to accept when Premier League clubs spent a collective the £260 million on agents this season) Atkin believes that the issues extend much further. "It's not all about money; it's about the clubs actually getting behind it, and supporting it, and taking the initiative themselves rather than relying on the charities to do the work and for them to stick their badge on it. Actually it should be the opposite way round. It should be clubs going, 'This is what we want to do'."
Atkin feels that too many high profile LGBT events around football matches risk "alienating people. We don't want to be, 'Oh, here we go again'." Alternatively, he suggests a more subtle "season-wide campaign", and a drive towards re-education for those guilty of homophobic abuse, as opposed to simply outright bans.
The largest remaining obstacle for football in Britain to overcome is an active male professional player feeling able to come out. Atkin's experiences make him feel that any openly gay footballer today would receive huge support, albeit he totally understands the reluctance.
"Not only are you playing for a team where you're potentially going to get abuse because you've missed a goal or you're not playing as well as you could be, you could then throw in ethnicity, religion, sexuality, and do you really want that? But we are also in a place now where if an individual chose to come out, he would probably get the biggest amount of support not only from fans, but from the media, and from football itself. Yes, you're going to get the odd troll, but I think we get that in all walks of life. Personally, I think it's going to be somebody who's currently in the academies where they do lots of work around diversity. That person may already be comfortable but is waiting to see where they end up."
Atkin is aware that the final steps have not yet been made, but he is also extremely proud of how far the LGBT movement in football has already come. "It's been great to get behind campaigns where I believe they will make a difference, and it's a race – it's not a sprint. It's going to take time for the sport to adjust."
At The Third Team I work individually and in collaboration with different professionals where I have developed workshops associated with Resilience and Mental Toughness Development to help referees. The workshops are interactive, where referees are encouraged to open up and share their experiences to help each other.
Feel free to contact me if you'd like to know more about my workshops and how I could help you or your officials.
Best Wishes,

Nathan Sherratt
Referee Educator & Managing Director of The Third Team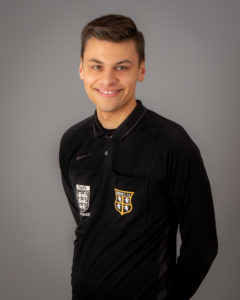 Nathan Sherratt, Referee Educator, Resilience Trainer and Managing Director of The Third Team.  A Mental Toughness Practitioner based in County Durham, North East England.