Why Do You Need A Resilience Trainer?
As a referee and a resilience trainer, I'll be upfront and admit that I'm a little biased in my view on this! As a referee, you come across some very challenging situations such as mass confrontations, identifying penalties or caution/dismissal offences.
Local Referees Associations also have issues with engagement, many branches report dwindling numbers in terms of membership and attendance at monthly meetings. Bringing in a resilience trainer will certainly bring referees back as it presents skills and tips that referees want to add to their armoury. All of the challenging situations listed above, amongst many others, have methods to help minimise the effect on an overall performance for a referee and improve their game management.
So How Can a Resilience Trainer Help Referee Bodies?
1. Referees can learn to control the controllables.
With resilience training referees can learn to identify what situations and circumstances they can control and cannot control. They also get the opportunity to learn how to focus on those advantageous things and ignore factors that do not help them.
2. Referees can learn how to manage their emotions better.
Emotions are an important part of being human, and thankfully as humans we all have them! My resilience training can help you identify the strongest emotions that you experience on and off the pitch and how these emotions can help or hinder you. You get the chance to learn how to regulate your anger, disappointment, fear and confusion when you are faced with difficult decisions or situations. 
3. Referees are able to see the wood for the trees.
A big challenge for a referee is that you can get caught up in the everyday emotional rollercoaster ride that we experience and lose perspective. Someone neutral, removed from the emotion of the situation, like myself a resilience trainer, or other referees can assist you to look beyond it. They will help you to recognise the reality of different situations that you have or are experiencing and the ideal future mental state to get into to help you.
4. Referees can regain their passion and sense of identity
Statistics tell us that The FA has 27,451 affiliated officials, of which 1,718 are female and 9.5% are BAME. 6,700 referees were lost to the game last season which is one in five of all of the FA's referees.  Therefore ensuring that referees understand what they enjoy about being a referee is important. Also, helping referees, appreciate what fires them up and what motivates them is part of a resilience trainers role. By aligning referee's properly with their goals can help them re-ignite their passion and reinforce a sense of identity. They come to better understand, who they are, what they stand for and why they referee. As a result, this is a great way to boost your self-esteem and approach refereeing with a positive mental attitude.
5. Improve a referees mental health
In improving a referees mental health it is important to pay attention to ensuring your mind and body are aligned so that they can work efficiently. A resilience trainer will help referees develop great daily habits and routines around their busy lifestyles. Changes to parts of your life such as sleep, diet, exercise whilst learning how to recognise when they are out of sync and improve how they manage those daily stressors. The impact on their refereeing is that it can improve tenfold when they have great habits & routines in those areas of their lifestyles.
Above there are 5 reasons for referees and referee bodies to work alongside resilience trainers, like myself, which in turn, can help improve performance, positivity and mental health. At The Third Team I work individually and in collaboration with different professionals where I have developed workshops associated with Resilience and Mental Toughness Development to help referees. The workshops are interactive, where referees are encouraged to open up and share their experiences to help each other.
Feel free to contact me if you'd like to know more about my workshops and how I could help you or your officials.
Best Wishes,

Nathan Sherratt
Referee Educator & Managing Director | The Third Team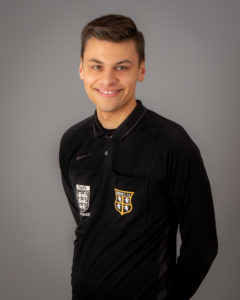 Nathan Sherratt, Referee Educator, Resilience Trainer and Managing Director of The Third Team.  A Mental Toughness Practitioner based in County Durham, North East England.