How can I overcome failure?
Failure is something many referees struggle with, but what if failure was more a friend than a foe?
It seems incomprehensible to view failure as a friend. For an official, failure can be quite devastating.
When you dedicate a huge part of your life to officiating your favourite sport, it is often difficult when you don't see positive results.
But what is failure exactly?
Is failure making an error? Is failure not achieving a promotion? Is failure losing your match control?
When your sole view of failure is negative, under performing will chip away at your confidence and prevent you from achieving your true potential as a referee.
The truth of the matter is, failure is a friend
A true friend not only celebrates your successes but points out your shortcomings in order to help you improve as a person.
So-called failure during a match can do the same thing a close friend does for you, point out areas that you could improve to become an even better official.
All referees have setbacks, whether you are operating at an elite level or in the grassroots game.
The trouble comes along when your perspective is skewed or you become narrowly focused on the negative, such as:
Being solely focused on what went wrong, "My foul recognition was so far off during the game."
Being consumed by the things you didn't accomplish, "Once again, I failed to gain a promotion."
Ruminating about the mistakes you made during the game, "My movement was horribly slow."
If you are a quest to overcome failure, you must first re-interpret failure.
It is important to not let negative performances dominate your thinking.
If you can reframe negative situations, you can learn a great deal, improve as a referee and overcome failure.
If your pace was off in the game, get to the track or out running more where you try to improve your time.
If you failed to gain a promotion last season, evaluate what you need to improve physically, technically and mentally.
If your foul recognition is below the standard expected of you, dedicate time towards analysing clips one day a week.
Look for the lesson(s) in a bad game rather than seeing it as an indication of your ability.
Perspective is the key according to Nikki Kimball, a highly accomplished distance runner who specialises in Ultra-marathons.
"An athlete needs to be able to look at what she could have done better, but she also needs to acknowledge what she did well. Looking only at the negative can lead to feelings of failure and frustration. When one does this too often, the athlete forgets that the primary reason humans start sports is that sports are fun. When I get lost in analysing reasons for a poor performance, I lose the fun of running." – Nikki Kimball, Ultra-marathon runner
Following Kimball's practical advice will greatly benefit you to maintain confidence, gain insight from your games, improve as a referee and, ultimately, overcome failure.
How to Overcome Failure
How can you grow and learn from this experience?
There are some positive aspects of every game you referee. By finding the positives in your games, you can maintain a higher degree of confidence.
What's the lesson for you mentally, strategically, and physically?
What can you learn from your games? What aspects of your refereeing can you improve for the next appointment?
Use failure as a lesson to improve your performance in the next fixture you officiate!
At The Third Team I work individually and in collaboration with different professionals where I have developed workshops associated with Resilience and Mental Toughness Development to help referees. The workshops are interactive, where referees are encouraged to open up and share their experiences to help each other.
Feel free to contact me if you'd like to know more about my workshops and how I could help you or your officials.
Best Wishes,

Nathan Sherratt
Referee Educator & Managing Director of The Third Team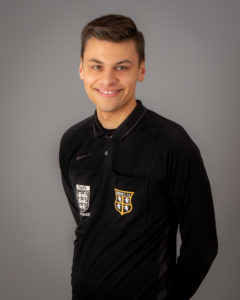 Nathan Sherratt, Referee Educator, Resilience Trainer and Managing Director of The Third Team.  A Mental Toughness Practitioner based in County Durham, North East England.