Many sports psychologists often speak about the importance of learning mental toughness in order to improve your performance. However, my experience of coaching the mental game to referees, those in education and employees of corporate businesses makes me think that understanding mental toughness skills is not the whole picture. To be successful with mental toughness training, officials must learn how to apply it.
What Leads To Me Saying This?
I can work with you to improve concentration and focus all day long. You can understand the information and concepts by hearing it or reading about it (See The Confident Referee Checklist at thethirdteam.co.uk). However, until you actually are able to put the focusing skills into your training and a matchday, you can't make any progress and REALLY learn mental toughness.
If you're serious about getting the most from what you've learned, then you must make sure that you consistently apply the mental skills which you understand on a conceptual level. This is the biggest challenge in my work, helping referees apply the concepts.
Take confidence, for example. I work with officials and coach strategies to enhance confidence, such as how to fight doubt over decisions made out in the middle, and how to put them into action. But, did you know that until a referee actually implements them, practices them, and add them into their visualisation routines that you won't see improvement?
The biggest challenge is to commit to working on your mental toughness on a daily basis over a period of weeks, months, and even years. It's easy to pick up a book on mental training and then forget about the strategies you took from that book a week later. The key is to find a system to apply your new mental toughness strategies to your training and on a matchday on a daily basis.
This is similar to the skill of visualisation and seeing what you want to happen. When an official visualises their performance, they can see it in their mind, but can they truly believe it and feel it?
Visualisation can be just wishful thinking on the part of the referee. If you don't believe in the images you create in your mind and have complete control over those mental images, then it just will not be effective.
In a coaching an official, I asked one of my referees if she visualises key match incidents (KMIs) before she goes out to execute them on the field of play. Her reply: "Oh no, I stopped visualising KMIs because I would only see an incorrect decision in my mind before I blew the whistle." Is this official really using visualisation the way it was intended?
The best referees truly feel, sense, and believe in what they see in their minds AND have total control over the images when they use visualisation. When you can join your mental pictures with true confidence, then you have power to change your performance by just using your mind.
At The Third Team I work individually and in collaboration with different professionals where I have developed workshops associated with Resilience and Mental Toughness Development to help referees. The workshops are interactive, where referees are encouraged to open up and share their experiences to help each other.
Feel free to contact me if you'd like to know more about my workshops and how I could help you or your officials.
Best Wishes,

Nathan Sherratt
Referee Educator & Managing Director of The Third Team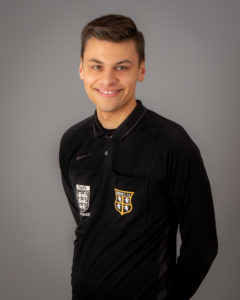 Nathan Sherratt, Referee Educator, Resilience Trainer and Managing Director of The Third Team.  A Mental Toughness Practitioner based in County Durham, North East England.