Channelling Nerves is Possible
Many referees can get very fearful and uptight before they officiate their appointed fixtures, so much so that they dread refereeing. Many may feel very irritable on the journey to the venue, they may even be sick or in some cases they refuse to officiate. Faking injury is also something I've come across a number of times.
These referees get so overwhelmed by their thoughts and emotions that it is impossible for them to enjoy the experience, let alone officiate to the best of their ability as they often do when they practice their Laws of The Game knowledge and physically train.
Let me share an example of an initial email that I received from a referee, and then touch on how we turned things around for this official:
"I'm hoping you may be able to help me with my refereeing. I am 21 and I officiate in the semi-professional game. Unfortunately, I've been unable to complete many appointments this season due to suffering from pre-match nerves. I feel fine when training, however when it comes to a matchday I'm unable to go through with it and can't bring myself to even prepare my kit. I've coming off a lot of games recently.
I haven't pushed myself to referee and my coach has been very understanding, allowing me as much time as I needs to sort out my nerves. I'm really keen to conquer my nerves as I want to resume my career fully. I know I need to speak to someone about my problem." 
How can we help officials, like the sender of this email, who experience such strong feelings and emotions?
One thing that is for sure, is that it is possible to change this. This referee is living proof as they now treat their appointments as though they are the same as when they train, officiating with a smile on their face and understanding how to get "in the zone" so that they can perform at their best.
We checked on this referee's expectations of themself and others and unsurprisingly found a big mismatch and went to work to change this so they were more realistic in their approach.
This official was better equipped to understand what they could control on and off the pitch and what was out of their control. This has helped them not waste too much time and energy on pointless things.
We discussed under pressure how to change brain frequencies so that they could remain calm and composed. We used a straightforward yet effective approach, a breathing technique to control their heart rate and the part of the brain, the amygdala, that's in charge of the "fight or flight" response which prompts such anxieties. We showed the referee how to breathe in through their nose for five seconds, then exhale through their mouth as if they were blowing out candles on a birthday cake, for six seconds. After repeating this a few times, they instantly felt calmer. We also used a series of grounding exercises where they placed their attention into their feet to centre themself and quieten their mind.
We practiced ways to help this official be kinder to themself and cut themself some slack as they were incredibly hard on themself using tools associated with compassionate focused therapy.
Visualisation techniques were also a highlight of our work to embed the ideas that we had discussed in session and help them access "the zone".
One of our main goals was to help this official get away from overthinking, which is a problem we all can get stuck in doing and is a big mental game no-no.
By putting into practice these 5 strategies, this referee now focuses on the right things, they have nerves but they channel them in the right way. They are much calmer and able to their mind and body when required, so they are eager to show off their management skills out in the middle. Additionally, they're easily able to access positive memories and past experiences, so that they can now trust their instincts and react intuitively to what is going on around them.
Testimonial
Here is what the referee's coach had to say about our support:
"My official is really making progress, a huge amount of which is down to Nathan from The Third Team, thank you. They appear to have their pre-match nerves totally under control. They refereed their first league game for 3 months on Saturday, which they correctly awarded two penalties and recognised a serious foul play tackle leading to a dismissal. So, they were really proud of themself. I am so happy for them and can't thank you enough Nathan."
At The Third Team I work individually and in collaboration with different professionals where I have developed workshops associated with Resilience and Mental Toughness Development to help referees. The workshops are interactive, where referees are encouraged to open up and share their experiences to help each other.
Feel free to contact me if you'd like to know more about my workshops and how I could help you or your officials.
Best Wishes,

Nathan Sherratt
Referee Educator & Managing Director of The Third Team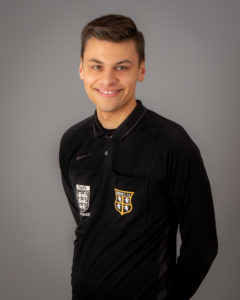 Nathan Sherratt, Referee Educator, Resilience Trainer and Managing Director of The Third Team.  A Mental Toughness Practitioner based in County Durham, North East England.