Do you find you become more and more frustrated by missing your refereeing goals?
Does it feel like each performance that you fall short of your goal seems like failure?
Every official has a goal. In fact, referees are constantly told of the importance of goals, such as gaining a promotion, for achieving success. For many officials, each missed attempt is filled with frustration and discontentment. These referees often question their ability and worth as officials when they fall short of their goals.
The reason for such a negative reaction is that these referees are solely focused on marks. Maybe, you are saying to yourself, "Of course I am focused on my marks, that is what developing as a referee is all about."
While the importance of having a goal cannot be overstated, the key to goal attainment is to focus on the process of achieving your goal. This is called goal getting. Focusing on the process is like a trial-and-error approach. Every match observation provides some feedback that is beneficial in the pursuit of your ultimate goal.
Concentrating on the process allows you to make adjustments to your training, technique and your mental approach to the fixtures you're appointed to while sustaining your motivation. Focusing on the process helps you learn faster, moves you closer to your goals and grows your mental toughness levels by increasing your ability to work through adversity.
How Do Athletes From Other Sports Set Goals?
Jennifer Meech is a great example of the power of having a present moment focus. Meech was a senior sprinter in the Dartmouth College track team.
Meech set a goal of breaking the 30-year-old Dartmouth record in the 400m event (54.45).
Each year, Meech steadily chipped away at the record with best times of 56.15 as a freshman, 55.52 as a sophomore and 55.0 as a junior.
Many athletes (and referees) who focus too much on results might be discouraged by the past and use the past as evidence that something is not possible in the present.
Meech was able to separate her present race from past performances, focus on the process of improving and be totally immersed in the race in front of her.
The result of Meech focusing on the process was setting a new Dartmouth record at the Ivy League championship with a time of 53.99, almost a half second faster than the previous mark.
"I definitely take each event one at a time… Breaking a 30-year-old record in the 400-meter this year was another accomplishment that I'm very proud of, especially since it was something that I've worked toward for the past three years."

– Jennifer Meech, Sprinter
The key to setting the Dartmouth record was Meech's ablity to learn from every race that she ran. Every performance taught Meech how to train smarter, run differently or even provided evidence that she was on the right track.
Feedback only works if you have the correct mindset, the mindset of focusing on the process instead of fretting about reaching goals.
Tip For Focusing On The Process:
Instead of evaluating your refereeing performance in all-or-nothing terms ("I succeeded or I failed"), rate your performance from 1-10. Make sure to rate yourself based on the effort, not the outcome.
Then identify 1-2 smaller goals you can improve in your officiating performances by focusing on small things that help you succeed on matchday and improve in training, such as to move on a different diagonal or focus on other areas at set pieces.
Keep in mind that setting smaller goals are not expectations. They help direct your attention to what's important to your performance.
At The Third Team I work individually and in collaboration with different professionals where I have developed workshops and 1-2-1 sessions associated with Resilience and Mental Toughness Development to help referees. The workshops and 1-2-1 sessions are interactive, where referees are encouraged to open up and share their experiences to help themselves and each other.
Feel free to contact me if you'd like to know more about my workshops or 1-2-1 sessions and how I could help you or your officials.
Best Wishes,

Nathan Sherratt
Referee Educator & Managing Director of The Third Team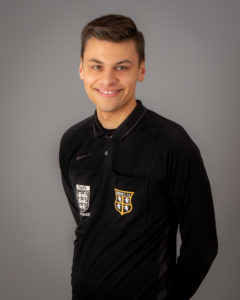 Nathan Sherratt, Referee Educator, Resilience Trainer and Managing Director of The Third Team.  A Mental Toughness Practitioner based in County Durham, North East England.