Personal leadership is a very important skill for referee's to develop if you wish to fulfil your potential.  It looks closely at taking control of your future by reviewing how you want to referee.  Sadly this is a quality that many referee's do not see as important and as a result it can have a big impact on referee retention levels.  
In my training with referees to develop their resilience, part of the role is to seek to improve their personal leadership skills.
What is personal leadership?
The way I define personal leadership in refereeing is "to referee how you want to referee."
The emphasis in personal leadership in this case is on the word "want." Many referees go about their refereeing without recognising how they want to referee. Referees have the opportunity to take the lead and develop their interpersonal skills and resilience if they choose to make their personal development a priority.
Taking personal leadership can help referees formulate long term goals for their future in the game. You can define where you want to be and take action to get from A to B. It's about making yourself a priority. Because when you invest in your personal leadership you give yourself the best chance of becoming the best version of yourself as a referee.
Personal Leadership Strategies
Many referee's juggle full-time jobs with refereeing and mention that they feel overworked and overwhelmed on occasions.  They feel like they never have time to take a step back to consider their own needs or ambitions.  They discuss, "I try and try, but….. and I never seem to get the recognition that I want."
Others are what I call the overachievers who have big dreams and are hugely motivated to go after them.   But despite the fact that they are driven and hardworking, they're not always working on the things that help them achieve the aims, quickly.
In either case – whether they're overstressed or overstretched – what they need most to get to a sense of productivity and well-being is to practice personal leadership.
They may be ready for that immediately, too. Each referee has a different path to personal leadership. They need to start from wherever they are right now.
Here are the first three steps.
Step 1: Embrace Both/And
For referees, making time for personal leadership opens them up to new possibilities. they may not see them initially, when they're working furiously and juggling day-to-day pressures. But they can have all the things they want: a successful career on and off the pitch, good health, quality time with their families, hobbies, travel. It doesn't have to be an either/or situation; it can be both/and. As a way of beginning a referee's personal leadership practice, open up to the possibility that officials can both manage the situation they're currently in and also lead their way to a more powerful future.
Step 2: Reflect Before Acting
I strongly believe in taking the time to reflect and plan before taking actions. Reflection is a simple tool. It's like meditation in that it's easy to understand but requires practice. When a referee's mind is open to new possibilities, then they can sit quietly with their thoughts and a notebook, and ask themselves: What's working? What's not working? What do I want to change?
Step 3: Get Clear
With a clear both/and mindset and an opportunity for reflection, referees can move forward to get clarity on their vision. If I had to refine personal leadership down to one question, it would be: What do you want? You can break this down even further into: What do you want out of refereeing? What do you want out of your current job? What do you want out of life overall?
Referees need to find clarity on this so they can focus their priorities. They need to be able to see it and say it. Research shows that just writing down goals makes it more likely that they'll be achieved.
I often think of a story I heard about woman who participated in a leadership development program. She was a top-performing salesperson, and her company wanted to help nurture and grow her career, but she was burnt out. At the time, her favourite saying was, "I'm 58 years old. How soon can I retire?"
But as she started to clarify her vision, priorities and goals, she realised why she was exhausted. She was working nonstop and neglecting a lot of the things that were important to her. When she paused to reflect, she defined what she wanted out of life. She wanted to feel rested, healthy and happy again. She wanted to spend time with her husband and her kids, who were getting older. And she wanted to be one of the top salespeople in her company, along with the compensation that came with that position.
By gaining clarity, she was able to see a new path forward. She didn't have to choose just one priority and ignore the rest. She learned to leverage her strengths, align her actions with her values and build a supportive team around her to maximise her time and focus on all of her goals. This process gave her the momentum she needed; after completing the program, she was honoured as one of the top 3% of salespeople in her company. Now she says, "I'm only 58 years old. Why would I retire?"
This is a great example of is the power of personal leadership. It can help referees discover what they truly want and allows them to give credit to themselves, so they can experience the fullness of their potential – that is, so they, too, can achieve what they want to achieve, and lead the lives they want to live.
Above there are 3 steps to help referees to use Personal Leadership Stratiegies, which in turn, can help improve performance, positivity and mental health. I can assist with this process which starts with an email to me on nathan@thethirdteam.co.uk or a phone call on 07530894226. We can then discuss your requirements and arrange a one off Resilience workshop or a comprehensive Resilience programme to help referees find their optimum level and ensure that referees are well supported.
Best Wishes,

Nathan Sherratt
Referee Educator & Managing Director of The Third Team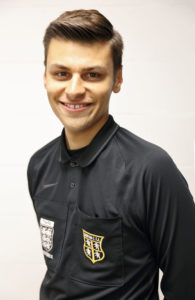 Nathan Sherratt, Referee Educator, Resilience Trainer and Managing Director of The Third Team.  A Mental Toughness Practitioner based near Durham, North East England.