"I don't want to talk about it. I don't want others to know my issues!"
Many referees feel the need to cover up the fact that they struggle with mental health in football and life. The negative stigma attached to mental health or psychology prevents many officials from seeking help. Part of the problem is that others see officials as people who don't feel emotions. Referees often buy into the invincibility syndrome where they can't do wrong. Of course, you hear stories of officials who overcame the odds to reach the pinnacle of the pyramid.
Mental health amongst referees has come to the forefront of late. You hear interviews of former elite officials, such as Mark Clattenburg, openly discuss the obstacles they've had to overcome to reach the pinnacle of their careers: physically gruelling training, endless hours each week pushing their bodies to the max, regimented diets, long hours of travel, working through an injury, limited time for social activities and self-sacrifice.
Blood, sweat, and tears are the badges of courage and triumph. Unfortunately, some referees who pay attention to every detail of being an official sometimes don't pay attention to their mental health. Mental health issues are just not seen as cool to discuss for referees who are in the public eye.
Mental Health Can Go Unseen By Referees
The most significant mental health struggles in the lives of referees are unseen, those bubbling under the surface. Officials are viewed with such awe, but the unseen mental struggles are real, emotionally overwhelming, and mentally taxing. Some referees are driven to burnout. Other officials are forced to take time out from competition.
A recent high-profile athlete who struggles with mental health is WTA tennis player Naomi Osaka, a four-time Grand Slam champion. She, and others before her, have brought widespread attention to the mental health issues of athletes. At the 2021 French Open, Osaka announced she would not participate in any press commitments citing mental health concerns and eventually withdrew from the tournament. And recently Osaka withdrew from Wimbledon in advance of the tournament, another major in the WTA circuit.
Osaka called into question the scrutiny of the press, the WTA mandatory rules for doing interviews, and the effects on the player's mental health.
"We're often sat there and asked questions that we've been asked multiple times before or asked questions that bring doubt into our minds, and I'm just not going to subject myself to people that doubt me," – Naomi Osaka, WTA tennis player.
Why Referees Hide
Some referees hide, not wanting anyone to see mental health as a weakness. These officials will dedicate their focus into training and preparing for appointments so that they don't have to think of the mental health challenges they experience within football and life.
While mental toughness is a revered quality amongst referees, mental health may be just as critical. More than winning promotions or having your name in the local newspaper. In one sense, some officials feel a sense of control when training and competing yet feel helpless and hopeless outside of football.
You see, referees are people too. And just like any person, officials have similar mental health issues in their life including depression, anxiety, fear, loneliness, and helplessness.
From a playing perspective, Spain & Juventus striker Alvaro Morata emphasised the need for all people, inside and outside of football, to take care of their mental health.
"I think it's important, not just in football but in any job people might have. It's true that many mental health issues, anxiety, depression, aren't considered with the seriousness they should be. It's a problem," – Alvaro Morata, Spain & Juventus striker
Morata went on to say that sport impacts your personal life, so it is necessary to have a sounding board to process your emotions and feelings.
"When you draw a game, you deserve to win; it's normal that it's hard to sleep afterward, with the adrenaline. I talk to [the team psychologist] a lot about everything," – Alvaro Morata, Spain & Juventus striker
Referees Are Under Greater Levels of Stress
All people experience stress and expectations in their life. But life and football for referees can be even more stressful when you add the public scrutiny officials feel from social media and the media. Referees need support groups and outside resources to help them deal with the pressure, manage expectations, share their stories, vent about poor performances, and communicate their needs.
Of course, counselling and psychotherapy is an option for officials, especially for referees experiencing severe mental health issues. For other officials battling the mental and emotional demands in football, a psychologist or mental game coach can be a tremendous resource.
At The Third Team, we help referees manage the pressure and expectations they feel within the world of football. We help officials learn and develop practical mental skills to empower them to overcome the challenges they feel as referees or the pressure they feel from managers and coaches to be great all the time. However, the mental skills we teach, apply to life outside of football as well. In other words, mental skills are life skills. If you consider football a microcosm of the world we live in, learning mental skills can prove invaluable in life too.
Mental Skills Helps Referees' Mental Health
When referees learn mental skills for football, they have more tools to resolve current challenges and proactively counter future obstacles in football and life. Mental skills help officials with the stress of officiating, but the same mental strategies can apply to life outside of football.
For example, learning a coping or relaxation strategy can help a referee focus during a fixture. The same strategy can help alleviate anxiety or improve sleep. Learning emotional control can help officials let go of past poor performances or mistakes. The same "letting go" strategy can help minimise negative feelings about others.
Communicating effectively with coaches can help referees express their feelings instead of ignoring needs or burying feelings. Managing the high expectations officials feel from players or club officials is part of the mental health challenges referees experience. When officials can overcome a "people-pleasing" mindset (what we call social approval) and focus their own goals, they are empowered to have more fun and feel less pressure.
Dealing with the fear of failure is very common in our work with referees and is a core issue for officials. Fear of failure is often crippling for referees because they worry too much about what others think of their performance and it ruins the enjoyment of refereeing. When officials learn focusing strategies, this can improve the quality of life in football and life.
Mental Skills That Referees Learn in Order to Cope
Many mental game skills and life skills (managing time, building healthy relationships, dealing with worry, overcoming perfectionism, dealing with disappointment) are important skills that can improve the overall mental health of referees today. Developing mental skills is essential to overcoming setbacks and pressure in life, minimising stress, and maximising potential.
Robin Scholefield, Ph.D., Director of Culture, Wellbeing & Clinical and Sport Psychological Services at the University of Southern California, believes in a holistic approach to grow as both a referee and individual. 
"The whole, healthy person is the most consistent peak performer. If you're not right with yourself, you're not going to be OK," – Robin Scholefield, Ph.D., Director of Culture, Wellbeing & Clinical and Sport Psychological Services at the University of Southern California
Life stress can add to officiating anxiety, and officiating stress can increase life stress. Separating the two is impossible. To manage your mental health, as a referee and individual, you need to take control of your life and the stressors you feel in football and life. Remember, achievement, success, and personal records are worthy of acknowledgment, but never at the expense of your mental health.
So, speak up. Take care of all your needs in football and life. When you remain silent about your fears and negative emotions, your mental health is in jeopardy. Talk with someone. Develop a support group to help you through the ups and downs of refereeing. Dealing with mental health should always be an important goal for officials who often feel under greater stress from the rigours of appointments, expectations, and the scrutiny of being in the public eye.
At The Third Team I work individually and in collaboration with different professionals where I have developed workshops associated with Resilience and Mental Toughness Development to help referees. The workshops are interactive, where referees are encouraged to open up and share their experiences to help each other.
Feel free to contact me if you'd like to know more about my workshops and how I could help you or your officials.
Best Wishes,

Nathan Sherratt
Referee Educator & Managing Director of The Third Team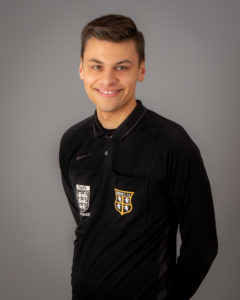 Nathan Sherratt, Referee Educator, Resilience Trainer and Managing Director of The Third Team.  A Mental Toughness Practitioner based in County Durham, North East England.