At this moment in time referees making perceived errors and the frequency of those errors are being called into question. In total, officials make on average five errors per game, meaning they are right 98% of the time. An assistant referee makes on average 50 decisions each game; 45 of these are pure offside judgements, with four of these resulting in offside flags. The accuracy of those decisions? Again, an impressive 98%. This Third Team Blog offers advice for officials who may find themselves in a similar position, having made an error.
One of the hardest things for any referee to do is to move on after a mistake, focus and "stay in the moment." Yet many officials are constantly told by their coaches and managers to forget about the last half, the previous game or the mistake that happened.
Think about a time when, in the height of the intensity of a game, you made a critical mistake. For example, the bad position you got yourself into which meant you missed a penalty decision, the serious foul play challenge that you only punished with a caution, the case of mistaken identity which meant a player was sent off for a second bookable offence.
You probably felt a rush of negative emotions (frustration, anger, embarrassment) flow through your body and mind.
You talk to your coach and your coach says:
"Forget about that mistake."
That is, of course, a lot easier said than done.
In fact, the word which probably most hits home in that quote is 'mistake'. Replay it in your mind until you are totally taken out of your game. You know performing in the moment is necessary, but it seems impossible to focus after you make a stupid mistake or an error on a routine decision.
Why is it so Difficult to Let go of That Silly Error?
One explanation is that you are human, this is exactly why you make mistakes. When you make a mistake, it is normal to be upset. If you aren't upset after a mistake, either you don't care or you expect to always underperform.
The second explanation is that you were not taught how to disregard mistakes, have not practiced the skill of focusing in the moment, or have not learned how to refocus after a mistake.
In basketball, Mike Krzyzewski, Duke Blue Devils Head Coach understands the value of teaching the ability to focus.
"To waste time lamenting a mistake or celebrating success is distracting and can leave you and your team unprepared for what you are about to face. It robs you of the ability to do your best at that moment and to give your full concentration." – Mike Krzyzewski, Duke Blue Devils Head Coach
Krzyzewski teaches something he calls the "next play" philosophy and there is no denying that this philosophy has helped his teams win five national championships, appear in 12 Final Four games and take home 26 ACC regular season and tournament titles.
This "next play" philosophy or mindset was ingrained in him when he was an undergraduate at the U.S. Military Academy.
"It's more like a West Point thing, like what's your next mission? So, whenever you got knocked back individually and collectively [as a team], they taught you, 'OK, next play. What am I going to do next?'" – Mike Krzyzewski, Duke Blue Devils Head Coach
As referees, we can adopt Krzyzewski's successful philosophy and, with some practice, we can learn to quickly refocus after a mistake.
Advice For Adopting The 'Next Decision' Philosophy:
Process the mistakes and start asking yourself, "What's the next decision I'm going to have to make?" Rest assured, whatever is next will come around quickly. As referees we make around 245 decisions per game on average.
Approximately 45 of these decisions are technical. Be it goal-kicks, corners or throw-ins, leaving around 200 decisions to be judging physical contact and disciplinary actions. Of those 200, around 35 are visible decisions where an action is taken (fouls, restarts), and 165 are non-visible, where we can allow play to continue.
This prompt helps you focus on what you must do next. This gets your head out of the last decision you had to make and puts your focus in the present moment.
If you consistently ask yourself this question, you will develop the habit of focusing on the present moment. Referees who judge themselves during their performance can apply the same strategy. Instead of thinking about how well you performed the last half or match, tell yourself "Move on and be ready for the next decision."
At The Third Team I work individually and in collaboration with different professionals where I have developed workshops associated with Resilience and Mental Toughness Development to help referees. The workshops are interactive, where referees are encouraged to open up and share their experiences to help each other.
Feel free to contact me if you'd like to know more about my workshops and how I could help you or your officials.
Best Wishes,

Nathan Sherratt
Referee Educator & Managing Director of The Third Team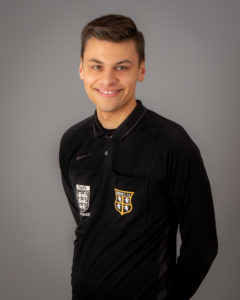 Nathan Sherratt, Referee Educator, Resilience Trainer and Managing Director of The Third Team.  A Mental Toughness Practitioner based in County Durham, North East England.