Most referees want to change at least one thing in their game. But it can be challenging to find the motivation just to make a start on picking your style of officiating apart. It helps to understand what motivation means to you so you can find your own ways to get motivated.
What is Motivation?
Motivation is the drive to achieve your goals or needs. It is influenced by:
How much you want to improve.
What skills you will gain and how much better a referee it will make you.
Your personal expectations.
Why is Motivation Important to Referees?
Motivation is an important trait for officials to possess because it:
Provides you with goals to work towards in order to climb the ladder or merit table.
Helps you solve problems out in the middle.
Helps you change old habits which have lead to errors or a lack of match control.
Helps you cope with challenges to your authority in games and take opportunities to bring the fixture back into your realm of control.
Gaining Motivation
Many officials struggle with motivation, but it is even more challenging if you have mental health challenges such as depression or anxiety. Here is some advice:
Set yourself one specific, achievable goal around an area of your officiating you most want to improve.
Think about how to incorporate that goal into your training, what you need do to make it happen, and then put a timeframe on it (such as a month).
Break your goal into small, easy tasks and set regular reminders to work on this area.
Encourage your colleagues, friends & family to support you, tell them about your goals and ask them to help keep you motivated.
How to Stay on Track
Make your goal part of your training routine by using notes or an app for reminders.
Positive self-talk is very important and effective in managing depression or anxiety. Instead of saying 'I can't', say 'I can'.
Mindfulness helps you stay relaxed and focused, this can help you get into The Zone prior to a fixture too.
Join a physical or online support group where you will be in the company of colleagues of varying levels and experiences. Support groups can be as effective as professional support such as referee coaches and managers.
Reward yourself when you have completed a goal. Celebrating achievements is an important factor in maintaining good levels of self-care and keeping burnout at bay.
How to Stay Motivated
Here is some advice:
Regularly review your goals and progress. Seeing progress is a great motivator in itself, and also improves your self-esteem and confidence in the job you can do when officiating.
Continue to set new goals. Think about what you want to achieve by your next game, next half of the season and next season. Tackle one goal at a time so you don't feel overwhelmed.
Keep the momentum up. It takes up to 3 months to develop a new habit, you will have many training/matchday opportunities to implement these fundamentals in that time, so keeping up the momentum and routine helps it feel more automatic over time.
Find or use your mentors. A mentor can help you achieve the habit you want to change. It may be possible to find a mentor at a physical or online support group. Equally, you may be able to be assigned one from your manager.
Surround yourself with positive people. Positive colleagues, friends and family enhance your positive self-talk, which also helps to manage any depression and/or anxiety you may have.
Use your physical training regime as one of your daily goals to improve your mental health.
Dealing With Losing Motivation
Setbacks are par for the course, but developing enhanced resilience levels can help you carry on and pick up where you left off. Here is some guidance to help you find your motivation again:
Review your goals and see if they are realistic in the timeframe you have set. You may need to break your goal down further into smaller and more achievable goals.
Remember why you wanted to get motivated or reach that goal in the first place. To become a better referee? To achieve a promotion? To increase fitness levels?
Take motivation from others, you may feel inspired by reading a book, talking to your colleagues, mentor or friends or family who have reached similar goals to the ones you have set.
Sometimes you just need to take a break and start afresh.
Where to Get Help
If you are struggling to get motivated, talk to someone you trust such as your mentor or manager, or a mental toughness coach who can provide useful strategies.
If you have a mental illness, you can obtain counselling through the NHS. Your doctor can help you with this.
You may want to bookmark and revisit this page when you need help with motivation in your refereeing career.
At The Third Team I work individually and in collaboration with different professionals where I have developed workshops associated with Resilience and Mental Toughness Development to help referees. The workshops are interactive, where referees are encouraged to open up and share their experiences to help each other.
Feel free to contact me if you'd like to know more about my workshops and how I could help you or your officials.
Best Wishes,
Nathan Sherratt
Referee Educator & Managing Director of The Third Team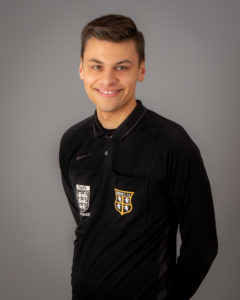 Nathan Sherratt, Referee Educator, Resilience Trainer and Managing Director of The Third Team.  A Mental Toughness Practitioner based in County Durham, North East England.