The concept of 'expect the unexpected' is one that is good in theory however, some officials are caught out when they forget to do it.
The unexpected is a common occurrence in matches however many referees fail to adequately prepare themselves to deal with it.
Many officials train and work theortically expecting to perform under ideal conditions but, when things go slightly awry from their gameplan, it can generate so much anxiety and ruin your performance as well as diminishing your match control.
There are many examples where we can look to players of other sports to demonstrate how the unexpected can damage a performance: A tennis player prepared diligently for an upcoming tournament. She felt in fantastic condition and her serves felt powerful and accurate. However, in the warm-up, she broke a string on her favorite racquet which mentally threw her off her game by the time the first set came around. This could happen to officials too if a part of their kit or equipment failed or broke in the pre-match preparations.
Another example is that of a golfer who was looking forward to a major all season. He worked on improving the weakest part of his game, his putting, all season and felt totally prepared in the build up. He felt that he had finally pulled his golf game together. However, the night before the tournament, there was heavy rainfall which made the greens slick. He felt so upset because he had finally pieced his whole game together and looked forward to shooting a low score but, through the first nine holes, nerves crept in. As referees, we must be aware that conditions can have a major bearing on the way the game is played. Always look to the weather forecast as part of your preparations prior to a game and even make a pre-match pitch assessment if necessary.
Finally, we can consider the predicament of the basketball player who had been out of action for two months with an elbow injury and was excited for her first game back. She had been stuck on the sidelines watching her teammates play for a number of weeks while she was injured and finally was feeling sharp and ready to go. During the warm-up, she felt a twinge in her elbow and was so worried about re-injuring her elbow that she didn't take a shot the entire game. The message officials can take from this is that sometimes things can feel a little unusual once injuries have healed however, to achieve match fitness you should not be afraid to push yourself, particularly in the injured area.
Sometimes, things don't go as planned but that doesn't mean things will go badly. If you plan for different, less-than-optimal circumstances, you will not be totally thrown off your focus when the unexpected, such as a mass confrontation, strikes.
Uncertainty causes anxiety, so if you understand that optimal circumstances are not guaranteed, you can maintain a sense of calm and still perform well in a variety of adverse conditions.
Preparing for the unexpected is the method that the United States Women's National Team used to prepare for the 2019 World Cup. Head Coach Jill Ellis regularly changed her lineups, formations and alternated her gameplan to prepare the team for many different challenges.
USWNT defender Becky Sauerbrunn said that she felt better prepared for games after training for a variety of potential situations.
"[Head coach Jill Ellis] said she was going to throw people into formations and into games that maybe they weren't prepared for and she wanted to see how they reacted, because in a World Cup you never know what you're going to face, and you're going to have to be able to take those challenges on and still perform well. And so I feel very strong having gone through that process." – Becky Sauerbrunn, United States Women's National Team Defender
Circumstances change all the time in football matches and having a contingency plan in place for when conditions are not optimal is an effective strategy for being a successful match official.
Preparing for the Unexpected:  
You can't anticipate every possible scenario but you can learn to be flexible so you can better manage the challenges which will inevitably come your way during the 90 minutes. 
Develop a plan B. "If this happens, I will do this."  Share this information with your assistants and 4th official, if you have one, during your pre-match discussions so that the other members of your team are able to work in sync with you as things change throughout the game.
Start by thinking about what may affect your performance. What has knocked you off kilter in the past, such as simulation from players or a partisan crowd. 
Think about how you will cope with these challenges and how you can develop a positive response to each challenge, which will in turn, help you to stay focused and composed out in the middle. 
Try to incorporate this into your pre-match preparation and visualisation so that you're comfortable with your plans when you arrive at the venue.
At The Third Team I work individually and in collaboration with different professionals where I have developed workshops associated with Resilience and Mental Toughness Development to help referees. The workshops are interactive, where referees are encouraged to open up and share their experiences to help each other.
Feel free to contact me if you'd like to know more about my workshops and how I could help you or your officials.
Best Wishes,

Nathan Sherratt
Referee Educator & Managing Director of The Third Team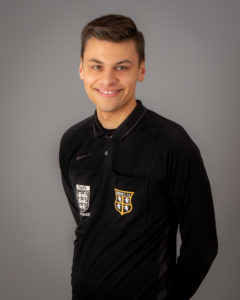 Nathan Sherratt, Referee Educator, Resilience Trainer and Managing Director of The Third Team.  A Mental Toughness Practitioner based in County Durham, North East England.