Why do the performances of some officials stagnate after they've worked so hard, been so dedicated and improved so much that they've climbed the refereeing ladder? One of the reasons for referees stagnating is the feeling of "I'm just happy to be here". The concept of being "just happy to be here" is akin to the idea of "resting on your laurels." You are so satisfied with an achievement, such as a double promotion or back to back promotions, that you no longer put in the effort to continue the upward trajectory of your career.
For example, when you first qualified as a match official your goal was to be promoted to the next level. You dedicated time to learning the laws, improving your fitness and surrounding yourself with more experienced colleagues, from whom you could learn.
Week in, week out your club marks stood out to the league and FA administrators and when you were observed the assessors produced positive evaluations of your performance. You were promoted. You were delighted. You'd worked unbelievably hard to achieve your goal and you were so happy to now be able to call yourself an official of the next level.
However, once you could call yourself a referee of a higher level, your satisfaction with regard to your accomplishment outweighed any other feeling so you no longer gave the same effort you did as a lower ranked official. You were no longer the first to close dates and confirm appointments. Your goal was achieved! When you no longer have a goal, your motivation will dissipate, and you will stagnate. Taking your refereeing ability to an even higher level requires you to set new goals.  When you set new goals, you will be motivated to work hard when you train and to contribute more in technical meetings. When you set new goals, you will be motivated to develop mental and physical skills so you can contribute more to the success of your team of officials. When you set new goals, you will improve your confidence as a referee and a human being.
A great example of an achievement not being the end goal is the story of Tierna Davidson, an American female player, who is preparing to push on to the next level after graduating from Stanford University and turning professional. Davidson was drafted first overall at the 2019 NWSL College Draft by the Chicago Red Stars and was the youngest member of 2019 FIFA USWNT World Cup World Cup squad. Davidson is highly motivated to take her game to the next level and become a key player for the USWNT in the future.
"Something that I learned pretty quickly is getting called up to the national team is not a moment where you should say, 'Oh, I finally made it.' That's just the beginning. It is important that, once you get to that level, you relish in your accomplishment of being called up. But then it's, 'What's next? How can I improve? How can I make myself better? How can I make my teammates better? How can I contribute to the team?' And that's constantly asking yourself those questions and looking for places to get better. Which is, I think, what our team does incredibly well."

– Tierna Davidson
As Davidson states, reaching an objective is not the ultimate accomplishment but a part of the journey on her road to realising her maximum potential. To maintain your momentum and take your standard of officiating to another level, it is crucial that you keep challenging yourself with new goals.
How to Prevent Stagnation
Your goals should always be fluid. Attaining the next level of performance is a process where you build upon your goals. When you reach a goal and then set another goal that is slightly more challenging. Goal setting is a mental skill that keeps you focused on making sure you realise all of your potential. Make sure that you're focused on daily goal-getting strategies after you set your short-term goals.
At The Third Team I work individually and in collaboration with different professionals where I have developed workshops associated with Resilience and Mental Toughness Development to help referees. The workshops are interactive, where referees are encouraged to open up and share their experiences to help each other.
Feel free to contact me if you'd like to know more about my workshops and how I could help you or your officials.
Best Wishes,
Nathan Sherratt
Referee Educator & Managing Director of The Third Team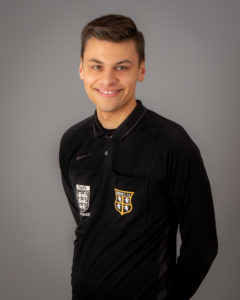 Nathan Sherratt, Referee Educator, Resilience Trainer and Managing Director of The Third Team.  A Mental Toughness Practitioner based in County Durham, North East England.