Mistakes or errors are a regular occurrence in our lives and in football, however many officials ruin their performances as they are unable to compartmentalise mistakes and errors they have made.
Missing fouls, incorrectly identifying perpetrators, and losing match control can happen to referees and then become a thorn in the mind of many officials. Sometimes, referees can struggle with poor runs of form for the remainder of the season because they can't stop dwelling on errors or missed opportunities to stamp their authority on games in order to maintain a good level of match control.
I am sure you, as we all have as officials, have made some mistakes in your refereeing career which you were unable to quickly brush off. You held a critical mistake in your mind for most the game and were too busy beating yourself up so you made further errors as your concentration was compromised.
Overthinking errors is the number one distraction for officials. You cannot officiate in the present moment, part of being in the zone, if your mind is stuck on a missed foul or poor performance.
Rarely do those in sport use mistakes or anger to help them perform better, but it has been known on occasion. You watch Tiger Woods get angry on the golf course, but he is able to channel his frustration to make it work for him instead of against him.
Tiger becomes more focused and determined to make up for the error by refocusing his mind in the present moment.
Why does the mind sometimes focus on previous errors?
Making mistakes do not meet the standards you expect yourself or others expect of you. You want to perform better and think that is what you should doing. In some instances, you may apologise to others such as players and club officials because you want show them you made an error which falls below your own standards.
Once you begin to overthink an error and beat yourself up, it is very hard to get off the cycle of negativity because your gameplan will be about trying to avoid making errors. This is not a good mindset for focusing in the present moment.
The best referees in the world use mistakes to help them grow and become better officials. They become more focused, more determined, and are able to let go of mistakes quickly so it does not affect them for several matches or weeks that follow.
At The Third Team I work individually and in collaboration with different professionals where I have developed workshops associated with Resilience and Mental Toughness Development to help referees. The workshops are interactive, where referees are encouraged to open up and share their experiences to help each other.
Feel free to contact me if you'd like to know more about my workshops and how I could help you or your officials.
Best Wishes,

Nathan Sherratt
Referee Educator & Managing Director of The Third Team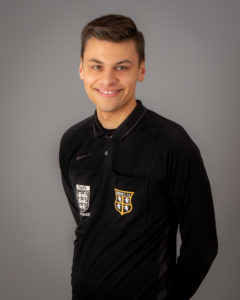 Nathan Sherratt, Referee Educator, Resilience Trainer and Managing Director of The Third Team.  A Mental Toughness Practitioner based in County Durham, North East England.