How do you feel after making a game-changing error and losing match control within a game? Do you question your abilities? Do you feel less confident about the next appointment?
What you tell yourself after a performance will impact your emotions and confidence. In addition, your thoughts about a recent performance will affect your preparation and performance for the following fixture that you referee.
Perspective is your view of a performance. In other words, perspective is how you evaluate how well you officiated a game. So, your perspective is always true for you.
Perspective may not be based on facts, but it is your point of view or your reality. Unfortunately, outperforming your reality is practically impossible.
For example, if you award two penalties which player reaction tells you are wrong, you may see yourself as a below-average referee.
If you view yourself as a poor official, you will likely live up to that negative assessment. You will lack confidence for the next game. You will be anxious when the ball is in the final third for each team.
Instead of watching the challenges, you will be distracted by thoughts of making an incorrect foul decision. You will be tight, and your reaction time will be slow. You will stay back and position yourself optimally to make the correct decision.
These times are when you allow the players to convince you of things which haven't happened. In essence, according to your last game, you proved yourself correct when you thought you were a bad referee.
Imagine how you would prepare differently and officiate your next game if you evaluated your performance more positively. Now, you cannot change the decisions made in a game that has already been played, but you can look at your performance objectively.
You may have given a couple of throw-ins the wrong way, but does that mean you made no positive decisions throughout game?
Looking for your successes in a game, no matter how small, helps keep your confidence high. You will prepare better for the next game when you have high confidence.
You may think looking for something positive is essentially lying to yourself but looking upon everything unfavourably is the biggest lie.
The Basketball Example
After a disastrous fourth quarter, the Golden State Warriors lost to the Boston Celtics 120-108 in Game 1 of the United States and Canada National Basketball Association Finals. Golden State entered the fourth quarter with a 12-point lead, but the Celtics stormed back to outscore the Warriors by 40 points to 16.
After the game, Warriors forward Draymond Green viewed Golden State's performance in a positive perspective.
"They stayed within striking distance, and they made shots late. We'll be fine. We'll figure out the ways we can stop them from getting those threes and take them away. But I don't think it was a rhythm thing. We pretty much dominated the game for the first 41, 42 minutes, so we'll be fine." – Draymond Green, Forward, Golden State Warriors
The result of this perspective was a dominant performance in Game two, where the Warriors won 107-88.
Perspective is seeing your whole performance, not dwelling only on bad days.
Assessing Performance To Gain Confidence
View your performance objectively. After a fixture, think about two things you did well first. It might help if you relax for 30 minutes first.
Then, think about two areas of your refereeing that you want to improve in the next week game. Take a growth perspective to your appointments.
A positive post-match evaluation can impact your motivation in training sessions, and out in the middle.
At The Third Team I work individually and in collaboration with different professionals where I have developed workshops and 1-2-1 sessions associated with Resilience and Mental Toughness Development to help referees. The workshops and 1-2-1 sessions are interactive, where referees are encouraged to open up and share their experiences to help themselves and each other.
Feel free to contact me if you'd like to know more about my workshops or 1-2-1 sessions and how I could help you or your officials.
Best Wishes,

Nathan Sherratt
Referee Educator & Managing Director of The Third Team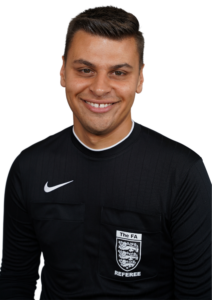 Nathan Sherratt, Referee Educator, Resilience Trainer and Managing Director of The Third Team.  A Mental Toughness Practitioner based in County Durham, North East England.