What is the key to success when refereeing? You can give many answers to the this question. However, I'm sure we can all agree that working hard is part of the equation.
A diligent work ethic doesn't just improve technical officiating skills and physiological capabilities. Hard work has a mental benefit; it leads to higher confidence.
When you put in dedicated training to improve your refereeing skills, you also improve confidence, and that confidence leads to success. When you buy into this equation, you become motivated to put in the effort continually.
Just because an official has the physical attributes (presence, speed, power, etc.) doesn't guarantee success. Too often, referees rely on their natural gifts and gradually peter out. These officials waste their talents because they don't buy into the value of hard work.
You will often feel too tired to put in the effort during gym sessions. This is the point where a referee's mental skills kick in. When you are exhausted during a training session, you can focus on how your body feels or concentrate on pushing hard for the next minute.
When you have made a few mistakes in Law knowledge, you can decide to give in for the day and go through the motions, or you can choose to hit the reset button and focus on the next drill.
You can choose to work as hard as some of your colleagues, or you can set a practice goal of outworking those at your level.
As you can see, hard work is as much mental as physical…
Resting on natural ability does not build confidence but relying on hard work does. Confidence comes from something you do, not something you have.
In the National Basketball Association League of the United States & Canada, you often see players play better than expected when they receive an opportunity. Boston Celtics backup point guard Payton Pritchard has reaped the benefits of hard work. Pritchard was the 26th pick in 2020, and his work ethic has earned him playing time.
Teammate at Boston Celtics, Jaylen Brown has taken notice of Pritchard's work ethic.
"[Pritchard] is a guy that's talented, and he wants to prove himself… So it was tough on him in stretches where he didn't play as much and things like that. But Payton got a great work ethic, so I think that supersedes it all. He has a great mentality, and that's half the battle." – Jaylen Brown, Boston Celtics
Brown also highlighted how Pritchard's hard work had built unshakeable confidence in his game.
"[Pritchard's] belief in himself and his confidence in himself is high… Payton is one of those people that he's never going to give up on himself; he always believes in himself no matter what the situation is. It doesn't matter if the cards are stacked up against him; Payton is the type of guy to bet on himself." – Jaylen Brown, Boston Celtics
Hard work improve your mental and physical game. A diligent work ethic gives you the confidence to trust your skills come matchday.
Dedicated Training Sessions
Gym and training in not just about the time your spend in training. Quality practice is about focus and high intensity, and practicing in a way that matches what you do when appointed to a fixture.
One way to keep your effort and intensity high in the gym is to break up your session into sections.
If you have a 1.5-hour training session, you can break it down to three 30 minutes sessions in your mind. Concentrate on giving max effort and focus throughout the 30-minute session.
At The Third Team I work individually and in collaboration with different professionals where I have developed workshops and 1-2-1 sessions associated with Resilience and Mental Toughness Development to help referees. The workshops and 1-2-1 sessions are interactive, where referees are encouraged to open up and share their experiences to help themselves and each other.
Feel free to contact me if you'd like to know more about my workshops or 1-2-1 sessions and how I could help you or your officials.
Best Wishes,

Nathan Sherratt
Referee Educator & Managing Director of The Third Team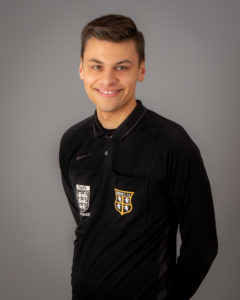 Nathan Sherratt, Referee Educator, Resilience Trainer and Managing Director of The Third Team.  A Mental Toughness Practitioner based in County Durham, North East England.