A drought or a slump… that is the question.
The distinction between these two terms will determine how quickly you break through when you are not having your best refereeing performances.
When officials label a couple of bad performances as a "slump," they imply that it as a long-lasting problem.
These referees enter a matchday with the mindset of "being in a slump" and expect to have another bad performance…
And what happens? They perform poorly AGAIN! It becomes a self-fulfilling prophecy and it feels like there is no end in sight.
A performance drought has a different feel.
Think of it terms of the weather, a drought indicates a brief period of time.
When there is a lack of rain, no one expects it to last forever. Everyone knows, after a little bit of time, the weather will change.
A performance drought is similar for referees.
Officials who see themselves as experiencing a performance drought know things will turn around. These referees enter appointments with the mindset, "This may be the fixture that I turn my game around."
These officials look for ways to improve their game instead of feeling bad for themselves or frustrated that they are not performing to their personal standards.
Purdue University basketball guard Carsen Edwards experienced a bit of a drought heading into the March Madness. Prior to the second round game against Villanova, Edwards shot 24-for-89 from the field and 11-for-45 from the three-point range during his previous four games.
In the game against Vilanova, Edwards scored a career-high 42 points on 12-of-21 shooting, including nine three-pointers leading Purdue to a 87-61 victory over defending national champion Villanova.
If you asked Edwards, he would have told you that he was a little annoyed with everyone talking about him being in a slump.
"If we're being really honest, I'm very tired of it. But I understand. I just have to keep working even after being able to have a game like this. I still have to stay in the gym, continue to work, and continue to prepare for the next game. I'm really tired of it. But I'm thankful to be able to have some shots fall for me today."

– Carsen Edwards, Purdue University Basketball Guard
Edwards never felt sorry for himself, nor did he think his drought would last forever.
Edward just stayed focused on his game, worked hard in practice, prepared to the best on his abilities and just looked for ways to help his team win basketball games.
Just because you are not on top of your game for a few fixtures doesn't mean it will last forever. Each matchday is a new opportunity to get back on track and potentially have a fantastic performance… with the right mindset!
Breaking Through a Performance Drought:
See it for what it is… a couple of bad games or appointments. Don't generalise based on one or two games. You can't perform in the zone every time you step out into the middle.
Look for fortunate breaks instead of dwelling on bad breaks or bad decisions that you've made.
Remind yourself that you can still contribute to the officiating team performance in other ways by supporting your colleagues in their decisions.
At The Third Team I work individually and in collaboration with different professionals where I have developed workshops and 1-2-1 sessions associated with Resilience and Mental Toughness Development to help referees. The workshops and 1-2-1 sessions are interactive, where referees are encouraged to open up and share their experiences to help themselves and each other.
Feel free to contact me if you'd like to know more about my workshops or 1-2-1 sessions and how I could help you or your officials.
Best Wishes,

Nathan Sherratt
Referee Educator & Managing Director of The Third Team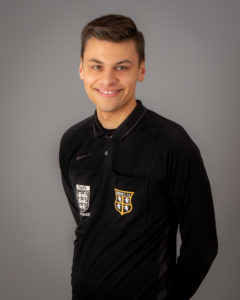 Nathan Sherratt, Referee Educator, Resilience Trainer and Managing Director of The Third Team.  A Mental Toughness Practitioner based in County Durham, North East England.