What factor contributes most to your success when refereeing?
Which of the following would you rank as the most important elements to your training and preparation for matchday?
Nutrition
Flexibility
Aerobic Conditioning
Speed Training
Anaerobic Training
Reaction time
Agility
Power
Technical Skills/ Mechanics
Laws of The Game Knowledge
Each of these physical elements contribute to improved officiating performances. But where would you rank mental training in this hierarchy for success?
How much attention and time do you dedicate to your mental skills training? Most referees believe mental factors significantly contribute to elite performance but pay little attention to mental skills training.
Mental training is the difference-maker in officiating performance. In other words, physical training can take you only so far.
Mental Training Is The Needed Boost That Takes You To The Next Level And Gives You A Significant Edge Over Your Colleagues.
You can spend hours on the track strengthening your body but what good is a strong body if you have a weak mental game?
You can work with your coaches to refine your technical refereeing but what good is that if you can't perform at a high level under pressure?
You can train very well but if you cannot focus when matchday comes around, then you will underperform despite your hard work.
The Playing Perspective
Mental training can take you further than physical training alone. Former NFL wide receiver Brandon Marshall knows what it takes to be successful in sport.
Marshall played 13 years in the NFL teams, was chosen for six Pro Bowls and amassed 12,351 receiving yards (23rd most receiving yards in NFL history).
Most recently an analyst, Marshall emphasised the importance of training the mind, yet sees mental training as the single most neglected aspect of performance preparation.
"Now look, we keep saying that sport is 80% mental, so when are we going to double down on training our mind and making sure we are there mentally? We don't do it enough as players." – Brandon Marshall, Former NFL Wide Receiver
Neglecting your mental game is like willingly missing half of your training sessions and expecting to get the majority of your decisions right every time you cross the white line. If matchday performance is 80% mental and you are doing little to no mental training, you will fall short of your competitive goals.
Strong Mental Skills Or A Strong Mental Game Does Not Happen By Chance. Competitive Mindsets Are Built Through Purposeful Training.
If you are committed to being the best match official you can possibly be, the only way to achieve that objective is by adding mental training to your preparation regime.
Mindset for Refereeing Success:
Ask yourself the three following questions:
How far do I want to go in my officiating career?
Without mental training, will I achieve my ultimate objectives and maximum potential?

How do I incorporate mental training into my training regime?
Once you understand the need for mental training, then it's a matter of committing to a stronger mental game.
Once all your training is complete, the mental game is the most important skill for success in refereeing.
At The Third Team I work individually and in collaboration with different professionals where I have developed workshops and 1-2-1 sessions associated with Resilience and Mental Toughness Development to help referees. The workshops and 1-2-1 sessions are interactive, where referees are encouraged to open up and share their experiences to help themselves and each other.
Feel free to contact me if you'd like to know more about my workshops and how I could help you or your officials.
Best Wishes,

Nathan Sherratt
Referee Educator & Managing Director of The Third Team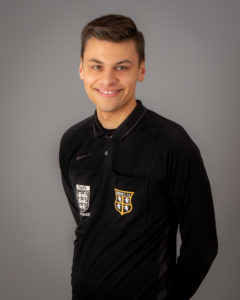 Nathan Sherratt, Referee Educator, Resilience Trainer and Managing Director of The Third Team.  A Mental Toughness Practitioner based in County Durham, North East England.