Is your mental toughness challenged when you have to perform out in the middle under difficult circumstances?
To maximise the best of your potential ability, you must learn how to anticipate and deal with challenges. 'Dealing with' means to have a way to respond to adversity so you can perform with sharpness and clarity. Football, and more specifically, refereeing, has its ups and downs and there is nothing you can do to prevent the fact that you may occasionally be blindsided, but you can control how you respond to those situations.
When Success Meets With Adversity
In my opinion, a great example of this is the story of former Toronto Blue Jays Outfielder, B.J. Upton. His is one of great success but also huge adversity.
Upton was a fantastic prospect during his time at school, he had all the tools, including an ability to hit the ball with power. Upton was drafted second overall as a shortstop in the 2002 Major League Baseball draft by Tampa Bay Rays. Upton was rated as the 21st prospect in baseball despite leading the minor leagues with 56 errors.
In 2004, Upton made his major league debut becoming the youngest Ray ever and the youngest player in the major leagues that season. Early in his career, Upton was heavily rotated between positions playing shortstop, third base, and outfield. Though Upton continued to produce with the bat and prove to be a dangerous base stealer, he was still plagued by errors. Towards the end of his time with the Rays, Upton was disciplined several times for his lack of effort and failure to run down ground-balls.
In 2013, Upton signed a big free agent contract with the Atlanta Braves and his offensive output suffered over the next three years. Upton changed teams two more times, continued to struggle with his bat and was riddled with a nagging foot injury.
There is no doubt that adversity hit Upton hard, which severely affected his performances on the field. Upton believes his struggles in the latter years of his career helped him be "mentally tougher".
"Having some pretty good highs and feeling the lowest of lows kind of put things into perspective and has [helped me] stay even keel. It makes you continue to work and makes you mentally stronger." – B.J. Upton, Former Toronto Blue Jays Outfielder
Does Adversity Make You Mentally Stronger?
If this was the case every single referee that was stood down, suffered an injury, lost form, was unable to contend with pressure or under-performed would grow from adversity. In actual fact, the opposite is often true, adversity, quite often, causes officials to hang up their whistles.
One aspect of mental toughness is how you react to adversity. You to continue to work hard, which leads to two benefits: 
Better performances 

Increased levels of mental toughness.
Mental toughness is the ability to focus on your goals, stay positive and find a way to overcome challenges. The best thing about increased mental toughness is that it is achievable to every referee, if you are willing to work for it.
You must ask yourself: "Do I want to improve my mental strength and cope better with adversity when comes my way?"
Ways Of Developing Mental Toughness
Firstly, you need to reframe your mindset so that your internal monologue is no longer saying "Oh no, not a reckless tackle!" and is now saying, "What do I need to deal with next?" When adversity has hit, it's not a problem. Negative thoughts about difficult periods will not allow you to rebound successfully. Instead of lamenting over an error you've made, think, "What can I do now to get my match control back on track and deliver the remainder of the game successfully?"
Additionally, look to anticipate challenges you might face during your game, from oppressive team tactics to foul challenges in key areas of the pitch. How will you respond to the players looking to you for action? When you prepare yourself mentally to deal with challenges, you have a number of options in the way that you choose to respond. For example, how would you respond to an act of simulation in the penalty area? Do you know how to stay composed, and arrive at the correct decision in the midst of one side branding the player a cheat, and their opponents looking for a penalty kick?
At The Third Team I work individually and in collaboration with different professionals where I have developed workshops associated with Resilience and Mental Toughness Development to help referees. The workshops are interactive, where referees are encouraged to open up and share their experiences to help each other.
Feel free to contact me if you'd like to know more about my workshops and how I could help you or your officials.
Best Wishes,

Nathan Sherratt
Referee Educator & Managing Director of The Third Team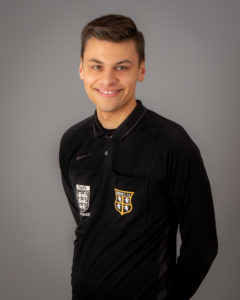 Nathan Sherratt, Referee Educator, Resilience Trainer and Managing Director of The Third Team.  A Mental Toughness Practitioner based in County Durham, North East England.