Has rest and recuperation time in the offseason disrupted your training pattern? This can be demoralising.
You train all season to put yourself in peak physical condition. Then there are no more fixtures for a couple of months, and you find yourself away from the field of play. Not only do you need to deal with potential boredom, but your training regime is interrupted as you allow your mind and body an opportunity reset, overcoming the knocks and niggles picked up over the course of a season.
As time passes, all you can do is imagine the amount of training you are missing and how it will hurt your performance in the coming season. You feel frustrated.
You think:
"If only there were something I could do while resting and recuperating, to stay in shape?"
Action, or activity, can alleviate a lot of stress during the offseason. Action gives you a sense of control. Action builds confidence. In addition, action prepares you to officiate.
What action can you take between seasons? Well, there's more than physical preparation that contributes to high performance out in the middle. You can always train and prepare your mind no matter your physical status.
Mental conditioning is often neglected, so when you take advantage of training your mind, you can improve your on-field performances immensely, even if you are not physically training.
Time Away From Track & Field
Ball State University track & field athlete Charity Griffith found herself facing time way from competition after tearing her meniscus in the middle of her junior year.
Instead of becoming despondent, Griffith focused on action. At the 2022 NCAA Regionals, Griffith qualified for the NCAA Track & Field Championships in the high jump by clearing 6 (feet)-0.5 (inches), even with her torn meniscus.
Since injury limited her physical training, Griffith focused on what she could do, and that was mental training. Griffith views the high jump as a mental competition within herself, which is why visualisation or mental rehearsal is so important for her.
Griffith credits her assistant coaches, Hankenson and Angelina Ramos, for teaching her the power of visualisation and mental rehearsal.
"I learned from Coach Holly and Coach Ramos that you use the same muscles neurologically, in visualisation, as if you were actually doing the job. You use the exact same neural pathways in the brain as if you're actually jumping. So to train the mind as if you're actually jumping definitely helps so much more than what people would think… taking the time to visualise and train without putting any impact on my body."

– Charity Griffith, Ball State University Track & Field Athlete
Visualisation provides many benefits, especially when inactive:
Visualisation decreases stress and reduces performance anxiety. Visualising can slow down the fight or flight response that kicks in during high pressure situations, such as a mass confrontation.
Visualisation boosts confidence. Seeing is believing. Mentally watching yourself being successful increases confidence.
Visualisation improves mechanics. Mental conditioning is almost as effective as a physical training session. Mental repetition helps solidify the mechanics of refereeing.
Visualisation reduces pain and speeds up recovery. Research has shown visualisation as an effective strategy to improve healing and health.
Visualisation enhances motivation. You stay motivated to continue working towards your officiating goals when you visualise yourself performing successfully out in the middle.
Using Visualisation When Inactive
Take advantage of your time off. Schedule two 10-minute visualisation sessions per day. Be sure to find a quiet place and sit or lie down.
In the first session, visualise your preparation for, and the journey to, your first game back out in the middle. In the second session, visualise yourself performing successfully and feeling strong once you've crossed the white line with the ball under your arm or a flag in your hand.
You might also use breathing exercises prior to mental training. This will help you get into a receptive mindset for your training.
At The Third Team I work individually and in collaboration with different professionals where I have developed workshops and 1-2-1 sessions associated with Resilience and Mental Toughness Development to help referees. The workshops and 1-2-1 sessions are interactive, where referees are encouraged to open up and share their experiences to help themselves and each other.
Feel free to contact me if you'd like to know more about my workshops or 1-2-1 sessions and how I could help you or your officials.
Best Wishes,

Nathan Sherratt
Referee Educator & Managing Director of The Third Team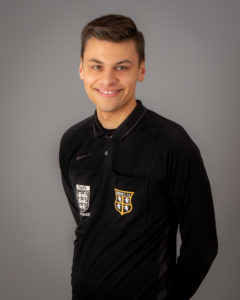 Nathan Sherratt, Referee Educator, Resilience Trainer and Managing Director of The Third Team.  A Mental Toughness Practitioner based in County Durham, North East England.