As the clocks are set to revert to Greenwich Mean Time (GMT) in the United Kingdom, crisp mornings are on the horizon, big cosy jumpers are being dug out of wardrobes and thoughts of festive decorations all help make Winter a joyful time of year. But not for all.
While it may look picture perfect, for some people the long nights and gloomy weather can end up having a negative impact on mood and health, it's not unusual to think hibernation is a much better alternative to facing the frosty days.
So, I'm sharing some tips to ensure you stay positive, healthy and happy even when the weather thinks otherwise!
Stay Active
It's may sound simple but one of the best ways to keep your spirits up is simply to keep moving.
Being active, even if it's just for 15 minutes a day, releases endorphins boosting your mood, so if you wake up feeling a little gloomy then a bit of movement will help put a smile on your face.
An activity outside such as walking, running and refereeing is preferable and a great mood booster as you breathe in fresh air while getting your heart pumping, but joining an online class or heading to the leisure centre for an indoor group class is also great. It's the acts of movement that are really important, not the location.
If you can't manage those, don't despair, walking up and down the stairs, a quick dance around the kitchen or even doing a few star jumps while watching Eastenders will get those happy hormones flowing and make you feel brighter.
Keep Warm
The cold can increase the risk of developing colds, flu, and even serious conditions such as heart attacks and pneumonia, so it's important to keep warm, both at home and out and about.
If you are sitting still for any length of time your body will have to work harder to circulate the blood around your body to keep you warm so, whether you find yourself sat at a desk for long periods when working from home or the inclement weather forces you to stay inside all day, make sure you get up and move about regularly to keep your circulation going.
This could be as simple as walking to the kitchen to make a cup of tea or perhaps something more high energy such as running on the spot or walking up and down the stairs.
Not only will this do you the world of good, it will also help you resist the temptation to touch that thermostat and avoid the unnecessarily high heating bills.
Get Outside
Don't be put off heading outside if your body craves some fresh air and movement, if you prepare for the weather, you can enjoy the outdoors no matter what time of year.
Dressing in layers and ensuring your hands and feet are warm will help you stay outdoors for the duration, whether that's for refereeing or just heading out to the shops. Just make sure you wear the correct footwear if it's icy or very wet conditions.
It's also worth keeping an eye on the weather forecast, check ahead to see when there may be breaks in the rain or a higher chance of sunshine and you'll be able to assess if your pitch will be playable.
Get Connected
When the weather is dismal it's easy for negative thoughts and low mood to develop, so finding some social support is a great mood booster for the long days ahead.
Refereeing can provide you with many opportunities to socialise, whether that's in a group setting or taking part in meetings online. Any social activity will be great for mental health. The officiating community groups or local referees' association branches may present a great opportunity to meet like-minded people.
So, if you're finding it difficult to find the energy to leave the house and feel a little dispirited, challenge yourself to connect with a friend or even to make new friends by going along to a group event or community activity. You'll soon find yourself feeling brighter.
Don't Be SAD
While most of us are affected by endless grey skies and rain, some people suffer more intensely and struggle with depression as a direct result.
Seasonal Affective Disorder (SAD), also known as Winter Depression, is a type of depression that follows a seasonal pattern and improves when the weather does. It's thought to be linked to the amount of sunlight we are exposed to and connect to the brain's chemicals, so it's good practice for us all to ensure that you get enough daylight even when it feels like it's a race against the clock in the depths of winter.
Don't Hibernate, Celebrate!
This advice and tips aren't ground-breaking. But following a few of them will help you break the low spirits and sluggishness that can set in at this time of year. Don't hide from winter, celebrate it. And find yourself facing the final months of 2023 with a spring in your step.
At The Third Team I work individually and in collaboration with different professionals where I have developed workshops and 1-2-1 sessions associated with Resilience and Mental Toughness Development to help referees. The workshops and 1-2-1 sessions are interactive, where referees are encouraged to open up and share their experiences to help themselves and each other.
Feel free to contact me if you'd like to know more about my workshops or 1-2-1 sessions and how I could help you or your officials.
Best Wishes,

Nathan Sherratt
Referee Educator & Managing Director of The Third Team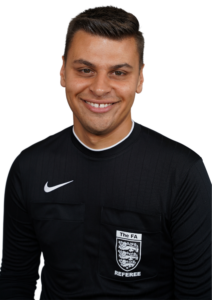 Nathan Sherratt, Referee Educator, Resilience Trainer and Managing Director of The Third Team.  A Mental Toughness Practitioner based in County Durham, North East England.