How anxious do you become during stressful moments in fixtures? Would you describe yourself as an anxious referee?
Anxiety doesn't just happen to officials. Even in cup finals, the event itself doesn't cause anxiety. So, why do so many referees become anxious in important fixtures?
Two reasons contribute to anxiety for officials
One cause of anxiety for referees is labelling yourself as an "anxious official". If you believe you are an anxious referee, then that is exactly what you'll become. You feel helpless in your attempts to change or when trying to manage anxiety. In essence, you become a martyr to your anxiety.
For instance, anxious players rarely perform well under pressure. If a tennis player labels himself an anxious athlete, he will anticipate anxiety and choke under pressure.
Another contributor to anxiety is the belief that you cannot control your emotions. The truth is you control your emotions and not the situation which you find yourself in. If you believe you can't control your emotions when you experience negative emotions in a game, this increases your anxiety.
An official who fails to identify foul play in the penalty area in the 80th minute will understandably become angry, frustrated, or agitated. Those emotions are normal. Burying negative emotions compounds the problem. The goal for the referee is to regain composure and focus on the decision they'll be called upon to make.
The question then is how can you manage your emotions during a game? If you become anxious, then you can become relaxed & composed
You can manage your situation by re-interpreting the situation, challenging your thoughts or making use of a relaxation strategy.
When you apply these simple strategies, you will feel you are capable of rising to officiating challenges with confidence.
In golf, professional player, Hideki Matsuyama won the 2021 Masters tournament, his first career Major championship victory. Heading into the final day of the tournament, Matsuyama was winning by four-strokes and was very nervous at the start of the round.
"My plan this morning was to wake up about 09:30, but needless to say, I arose much earlier than that and couldn't go back to sleep. So, I came to the golf course early. Had a really good warm-up. I felt really good going to the first tee, until I stood on the first tee, and then it hit me that I'm in the last group of the Masters Tournament, and I'm the leader by four strokes. Then I was really nervous." – Hideki Matsuyama, 2021 Masters Champion
Despite his nerves and all the "what if's", Matsuyama was able to keep his composure, manage his strong emotions and win the tournament by one stroke.
As referees, we have the capacity to manage our emotions in high pressure situations during important fixtures. You are the director of your experience and ultimately, influence your own performance.
Managing Anxiety in Stressful Fixtures
Firstly, you must come to terms with the fact that most anxiety is about fear of failure and worry about outcomes. When you worry about making a mistake or how you'll be perceived, you will feel anxious.
Additionally, you want to embrace the pressure of the moment as the reason why you train so hard.
But how you interpret the pressure is up to you. Try to put appointments to important matches into perspective and know this will not be the key match appointment you'll be handed. You will have many other opportunities. Make sure you let go of thoughts around the outcome of each decision and the consequences of the outcome.
At The Third Team I work individually and in collaboration with different professionals where I have developed workshops associated with Resilience and Mental Toughness Development to help referees. The workshops are interactive, where referees are encouraged to open up and share their experiences to help each other.
Feel free to contact me if you'd like to know more about my workshops and how I could help you or your officials.
Best Wishes,

Nathan Sherratt
Referee Educator & Managing Director of The Third Team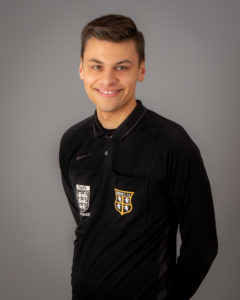 Nathan Sherratt, Referee Educator, Resilience Trainer and Managing Director of The Third Team.  A Mental Toughness Practitioner based in County Durham, North East England.