Thinking About "The Big Picture"
Having the ability to think about "the big picture" allows you to see your refereeing goals as a process.
Regrettably, many officials set goals and expect to obtain immediate results.
The Trap That Many Referees Fall Into
Dave, an 29 year-old Level 5 official, fell shy of his promotion goal the previous season.
After Dave had an end of the season meeting with his coach and manager, he reset his promotion goal and set out a plan for what he needed to do to accomplish his goal for the upcoming season.
Dave identified that he needed to improve his fitness as well as his decision making on key match incidents. Throughout pre-season, he worked to improve his physical condition and technical refereeing skills.
Dave felt he improved significantly and was confident heading into his competitive appointment of the new campaign. He saw some improvement in his decision making at key moments but he felt he failed due to feeling fatigued throughout the final 20 minutes of the game. Dave was devastated after the match because he didn't feel as fit as he thought he should have been.
Dave doubted if he would ever be able to get promoted to level 4, which significantly affected his confidence and motivation.
Goals Setting is a Process
Considering "the big picture" will allow you to monitor your progress and make any necessary changes in your training to keep you moving in the direction of your goals.
United States figure skater Jason Brown is focused on the big picture as he prepares for a run at the 2022 Olympic Games in Beijing.
Brown, who was the 2015 U.S. Champion, failed to make the 2018 Olympic team but has been working with new coaches to strengthen his jumps and improve his routines.
Brown finished fourth at his first competition of the season, the 2018 Autumn Classic International.
At his first Grand Prix event the next year, Brown placed 11th in the short program and 6th in the free skate to finish 6th overall at Skate Canada.
Even though it is difficult, Brown is being patient with the process and is focused on the big picture, his ultimate goal, competing at the 2022 Olympic Games.
"I think that there's an understanding that it is going to take time and you know you have to be patient, with new technique, a new team. Things are going to be uncomfortable… I tell myself a million times it is going to take time, but it is easier said than done because you get to competitions and you want to feel ready and perfect."
"You are forced into competing at a time you are going through so much change. I fully understand that it could take a year to get really comfortable, but when you are at a competition, the athlete comes out and you want to be your best. But after the competition is when I'm able to step back and realize I'm going through a lot of change, and see that I learned x, y and z this week." – Jason Brown, United States Figure Skater
To Think of "The Big Picture" Requires Three Steps:
Perspective – Remembering that accomplishing goals requires steps, both forward and backward.
Patience – Nothing worth having comes quickly or easily. If you want to accomplish big things, you have to keep plugging away.
Being Focused on The Process – All progress is made in the here and now, so stay focused on what you need to do at this period in time.
"Big picture thinking" is the element that helps elite referees strive for more and achieve more throughout their officiating careers.
A Big Picture Mindset
To bring your own "big picture" to reality, you must take several small steps or achieve some short-term goals. In the same way that it takes thousands of pixels to create an image on your phone, your "big picture" or refereeing goal is also accomplished through a process of steps.
Try to come up with 2-3 short-term goals each week to help direct your focus and energies. By creating several short-term goals, you will be better able to stay focused on the process and experience a sense of accomplishment as you progress towards your ultimate objective, whether it be promotion or just to improve.
At The Third Team I work individually and in collaboration with different professionals where I have developed workshops associated with Resilience and Mental Toughness Development to help referees. The workshops are interactive, where referees are encouraged to open up and share their experiences to help each other.
Feel free to contact me if you'd like to know more about my workshops and how I could help you or your officials.
Best Wishes,

Nathan Sherratt
Referee Educator & Managing Director of The Third Team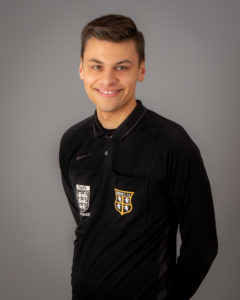 Nathan Sherratt, Referee Educator, Resilience Trainer and Managing Director of The Third Team.  A Mental Toughness Practitioner based in County Durham, North East England.