Do you like officiating in the blistering cold? What is your attitude when taking charge of a game in in strong winds?
On rainy days, do you find it difficult to focus during games and mentally concede that you will have a poor game?
Too often sportspeople allow poor conditions to detract from their performance.
For example, some tennis players allow hot temperatures to mentally take them out of matches early in the competition, some football players dread playing in the cold and play more cautiously in rainy conditions and some golfers feel they cannot putt well on wet greens.
Bad weather is 100% out of your control. You can't control the conditions on the pitch, excessive temperature, humidity, precipitation or wind.
Often, the referee that delivers the best game in tough weather conditions is the one that is most mentally tough.
Refereeing games of football to a high standard requires mental toughness, especially when games are being played in bad weather. The mentally tough mentality isn't just dealing with the cold, rain and wind, it's using the bad weather to your advantage.
How do you use bad weather to your advantage?
Think of it in these terms, Many referees don't like officiating in extreme conditions. These referees might even think, "Today is going to be really difficult. The weather is nasty and it is only going to get worse." Their mentality beats them before the game even starts.
Knowing that most referees do not look forward to competing in bad weather conditions, if you can maintain a positive mindset in tough conditions, you gain an advantage.
If you tell yourself, "No matter how challenging the weather is, I will give 100% effort and focus." If you repeat to yourself, "I love refereeing in these conditions." If you have the mentality that bad weather conditions are nothing other than an inconvenience, you give yourself a big competitive advantage.
The key is to set the tone early in a game. From warm-up onwards, it's important to have a mentally tough mindset that nothing will get in the way of you giving maximum effort to make every decision correctly as you see it.
Bad weather is an understatement when it came to an American Football fixture between the New England Patriots and the Dallas Cowboys game in the middle of the 2019 season. The temperature was extremely low, the ground was hard, the pitch was wet and slick, the ball was wet, the winds were gusting, all contributing to very challenging playing conditions.
Even though the conditions were the same for both playing teams and the team of officials, the Patriots' mentally tough mentality proved to be the difference-maker in New England's 13-9 victory.
In a post-match interview, New England Patriots free safety Devin McCourty talked about the Patriots' mindset heading into the game.
McCourty: "Any time we play in any type of [bad] weather game, we don't budge, cause when we come in here on a Wednesday, Thursday or Friday [practice], [Head Coach Bill Belichick] stands up here and he says whatever the weather is, get your stuff and put it on because we're in it."
"So we practice in all this. We've had rain days, really cold days. So we practice in all this. So when we get dressed and we get ready to go out there, our mentality doesn't change. We are out there to play football and try to dominate. And I think everyone has that mentality as a group. So I think it enables us to go out there and execute and try to play at a high level."
As you can see, mental toughness gives a distinct advantage to the referees or players that are most mentally prepared and mentally tough.
The Mental Edge in Tough Weather Conditions:
Embrace the challenge of refereeing in tough conditions. You gain the mental edge over other referees who you may be competing for a promotion with when you can embrace harsh weather conditions especially when other referees are frustrated or upset with the conditions.
If you want to respond with mental toughness, reframe your thinking about the challenge. What can you love about refereeing in tough conditions?
Also, when training, try doing so in challenging situations that replicate possible match circumstances. This way you know how to handle it better.
When you train in tough conditions, the more prepared you will be to respond well when you face those challenges in match situations.
At The Third Team I work individually and in collaboration with different professionals where I have developed workshops associated with Resilience and Mental Toughness Development to help referees. The workshops are interactive, where referees are encouraged to open up and share their experiences to help each other.
Feel free to contact me if you'd like to know more about my workshops and how I could help you or your officials.
Best Wishes,

Nathan Sherratt
Referee Educator & Managing Director of The Third Team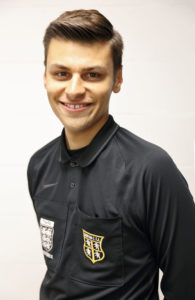 Nathan Sherratt, Referee Educator, Resilience Trainer and Managing Director of The Third Team.  A Mental Toughness Practitioner based near Durham, North East England.