"I GIVE UP!"
This is a common thought many referees have when contemplating if they want to continue in the middle as the enjoyment they get from refereeing dwindles.
Unfortunately, we know that over the past 10 seasons The FA has lost on average 7,000 referees per season.
Why do so many referees hang up their whistles every year, particularly when the majority of those are at an age young enough that they still have plenty of seasons left in them?
There are 4 main reasons that cause (young) referees to never don the black kit again.
Consumption of time – Many referees often comment that officiating requires too much of their time. Dedicating time to training, Too many games, Too much travelling, Not enough time to relax and that it can eat into the time they have to socialise with friends & their families. When you feel your refereeing career has taken on a life of its own, it can make training sessions on the track and in the gym feel like running through treacle.
Overbearing pressure – The pressure to deliver a flawless game every time they cross the white line is overwhelming for many (young) referees. Many of these officials feel they need to please club officials, players and spectators. The fear of letting down others can cause (young) referees to try to set unrealistically high goals or feel they need to be absolutely perfect in every decision they make. The weight some (young) officials feel is often a load too heavy to bear.
Periods of being blighted by injuries – Missing a lot of games due to injuries and watching your refereeing colleagues progressing and achieving can feel frustrating. Rehabilitating from injury, experiencing the pain from being injured and having to recondition after injury can cause a whole host of negative emotions.
Enjoyment dwindling – This, ultimately, is the main reason many (young) referees want to hang up their whistles. When the enjoyment is gone, officials are left feeling "burned out." Something you once enjoyed feels like such a chore that it sucks out all of the motivation and any passion you once had for refereeing.
A great example of walking away from a sport whilst in your prime is that of former NFL quarterback Andrew Luck. Luck was drafted by the Indianapolis Colts in the 2012 NFL Draft.
Luck, to great surprise from all in the game, retired at the young age of 29 years-old despite being one of the top quarterbacks in the NFL and still having many seasons left in him.
Luck achieved a lot in his seven year playing career including: four Pro Bowls and the 2018 NFL Comeback Player of the Year.
Unfortunately, Luck experienced a lot of adversity throughout his career, too.
Luck had shoulder surgery which caused him to miss the entire 2017 season and, most recently, ankle and calf injuries.
These injuries wore Luck down both physically and mentally and were the impetus for Luck's retirement from American football.
Upon retirement Luck commented: "It's been unrelenting. I felt stuck in it. The only way I see out is to no longer play (American) football. It's taken my joy of this game away."
If you are getting enjoyment from your refereeing, you can endure a lot more adversity whilst staying motivated to improve.
'I haven't been able to live the life I want to live,' he said, referring to both the pain of his injuries and the degree of dedication required to recover from them. 'It's taken the joy out of this game.'
He had been the NFL's Number 1 overall pick, then its leader in passing touchdowns, then its comeback player of the year.
Keeping Refereeing Enjoyable:
First of all, deciding it is time to hang up your whistle is not a failure. A time comes when every referee makes the decision to move on.
If you still have a passion to referee, write out a list of what you enjoy about your officiating, why you started, and what's the best thing about being in charge of a football match.
Remind yourself to make enjoying refereeing games a goal. Let go of the expectations to perform flawlessly.
Perfectionists both love and hate their style of refereeing at times. When they fail to live up to their own expectations, they become frustrated and lose the enjoyment.
Is your goal to enjoy officiating games stronger than the adversity and pain you feel at times?
At The Third Team I work individually and in collaboration with different professionals where I have developed workshops associated with Resilience and Mental Toughness Development to help referees. The workshops are interactive, where referees are encouraged to open up and share their experiences to help each other.
Feel free to contact me if you'd like to know more about my workshops and how I could help you or your officials.
 Best Wishes,

Nathan Sherratt
Referee Educator & Managing Director of The Third Team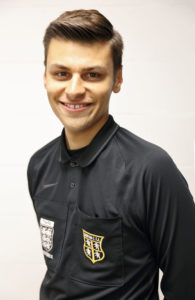 Nathan Sherratt, Referee Educator, Resilience Trainer and Managing Director of The Third Team.  A Mental Toughness Practitioner based in County Durham, North East England.