Do you raise your performance when the "big game" appointment comes through?
Why is it that some referees officiate very well all season long but can't seem to pull out a top display when it matters most?
Most officials fail to perform well in the big game because of expectation and pressure.
You tell yourself, "This is the cup final; the biggest game of the year for these players." The pressure builds, you have never refereed a more meaningful game. By the time the game starts, you feel an overwhelming amount of pressure to get every decision correct. Throughout the game, you just can't seem to get into a groove and you officiate well below expectations.
After the game you wonder, "What happened?"
Well, you changed your mental approach to the game, you tried harder to tried to have the perfect game. The big cup final game is the same 90 minutes in length as you've refereed all regular season. By labelling it, the "BIG game," the importance increases and you feel more pressure and this can affect your performance.
The best way to approach significant appointments is to stick to what you have done all season long.
You need to prepare for cup final type moments all season, practice high pressure scenarios and imagine those moments so when you are in those situations, you feel like you have been there before.
The Nebraska Huskers faced the University of Texas at the 2015 NCAA Women's Volleyball National Championship. The Huskers won the championship in impressive fashion 3-0 (25-23, 25-23, 25-21).
When asked how the team was able to execute their game plan during critical points in the match, Nebraska Head Coach John Cook stated his team prepared for that moment from the beginning of the season.
"My whole message tonight was we do four drills pretty much every day in practice and I call them national championship drills. And I told them, I said, just pretend you're in the drill, because it's going to happen. And every situation where it was close, the situations those drills that we work on happened and we executed. I said, just trust your training that you've been doing for the last three months and we executed really well." – John Cook, Head Coach, Nebraska Huskers
Of course you will feel some degree of pressure, you've officiated all season for the opportunity to referee the cup final.
The key to performing well in games is to consistently prepare for those big moments.
When you feel like you have been there before, you feel less overwhelmed and you can focus on officiating the game in your style.
Advice on Refereeing at Your Best in Significant Fixtures
When you set your goals in the beginning of the season, ask yourself, "What do I need to do to, not only get to that point, but to succeed in that moment?"
Maybe, it's creating as many angles as possible for yourself on the field of play. Then create little mental scenarios when visualising officiating games.
Tell yourself, "This is a key match incident, stay calm and relaxed."
By rehearsing big moments, you will place less pressure on yourself and increase your chances of successfully recognising foul play and allowing the game to flow fairly.
At The Third Team I work individually and in collaboration with different professionals where I have developed workshops associated with Resilience and Mental Toughness Development to help referees. The workshops are interactive, where referees are encouraged to open up and share their experiences to help each other.
Feel free to contact me if you'd like to know more about my workshops and how I could help you or your officials.
Best Wishes,

Nathan Sherratt
Referee Educator & Managing Director of The Third Team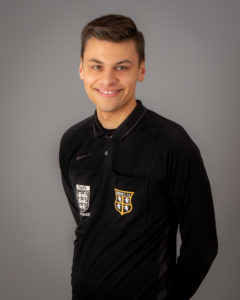 Nathan Sherratt, Referee Educator, Resilience Trainer and Managing Director of The Third Team.  A Mental Toughness Practitioner based in County Durham, North East England.