Sometimes no matter how hard you train and prepare for your next appointment; it just doesn't come together on the day. You fail to get into the zone, miss more foul tackles than you award fouls for, or you just couldn't effectively control the game. It feels like the whole world has come crashing down around you and you're probably thinking to yourself, what's even the point of training for matchday if I'm just going to referee like that. 
Stop & Think
In reality you have two options. 
1. You can feel sad and angry at how you performed, lay blame on your coach or Referee Development Officer/Manager for not preparing you enough, your parent or spouse about what they packed for you to eat and the random spectator who distracted you as you were officiating. You can hold onto these feelings for the next week and become unmotivated to train, hard to talk to and not accept help from anyone who offers it. 
2. You can feel sad and upset at how you performed, and then you can reflect. Was there anything you changed in the lead up to the game that may have affected how you refereed? Were you in a good mental headspace before "GO" time and completely focused on what you needed to do? If it's still a yes, keep reflecting. What can you take away from your performance? 
Which one are you going to choose? 
Reflect On It All
Of course, option 2 is easier said than done. So, my number one piece of advice is to reflect after every appointment or fixture, good or bad. The way I like to have people do this is to have a journal and at the end of the day, after you've left the venue, write down three things that went well and one area you would like to improve on. This can be big or small and as simple as – I made sure to shake the players' hands at the end of the game or I warmed up really well before I blew the first whistle. Not every fixture or appointment may be good but you should be able to reflect and find something good in every game you've officiated. Your attitude is crucial to your success. 
Imagine if we decided to give up every-time something didn't go well in life, even if it was just for a day or two. No one would ever achieve anything! What I'm saying is – it's ok to get upset about having an off day out in the middle. That's human nature when we have worked hard for something. However, the way you respond after this initial disappointment is crucial. If you want to be the best or even if you are just working towards steadily improving, you need to be able to accept that there will be bad days. From there it's about turning that disappointment around and focusing on what you can do. 
Speak to your support systems – RDO/M, colleagues and/or your coach about what happened. Did they see something that you may have missed? Plot your plan of attack for the next week of training around things you would like to focus on, be it mindset, skill training or overall performance. Continue your journal and make it a part of your every-day routine after training; three things you did well, one area you could improve. You may begin to see patterns, things you hadn't taken notice of before that you can improve to give yourself that extra edge. Primarily though, use this as a tool to celebrate all your wins and finish each day on a positive note.
At The Third Team I work individually and in collaboration with different professionals where I have developed workshops associated with Resilience and Mental Toughness Development to help referees. The workshops are interactive, where referees are encouraged to open up and share their experiences to help each other.
Feel free to contact me if you'd like to know more about my workshops and how I could help you or your officials.
Best Wishes,

Nathan Sherratt
Referee Educator & Managing Director of The Third Team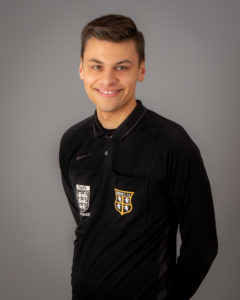 Nathan Sherratt, Referee Educator, Resilience Trainer and Managing Director of The Third Team.  A Mental Toughness Practitioner based in County Durham, North East England.