Upon the suspension of football at all levels in March 2020, millions of people in the UK were left to come to terms with a sudden loss of freedoms and autonomy. This included the hundreds of thousands of people involved in grassroots sport. Upon the restoration of elite football, after a 100 day hiatus, on Wednesday 17th June, a technological error influenced the result of the very first game to be played, Aston Villa v Sheffield United. With a sporting public who'd been forced to watch repeats of matches from years gone by desperate for a fix of live action again, this fixture had a higher global audience than it ordinarily would, including those involved in the grassroots game. When the technological error was made fans wanted someone to blame rather than to accept and appreciate that this was a fault which had happened for the first time in over 9,000 games which the technology had been used in.
The Threat To Grassroots Officials
When grassroots football was given the green light to recommence in August 2020, a resentment from players and club officials towards officials was clear for many referees to see. Data showed a clear spike in verbal and physical assaults towards match officials in the first two months after football had returned compared to the previous two months (pre-pandemic) where active football was played. What was the real cause of this downturn in conduct and lack of respect towards referees? Was it pent up anger and rage at being denied the opportunity to play football for so long?
One of the most notable cases during this period was that of Satyam Toki, a, 28 year old referee who was left bleeding after being hit by a footballer he had sent off for foul language at a game in Acton, Ealing, London, on 9th August 2020. Officials from around the country looked on in horror as the video clip of this vicious assault was disseminated across referee forums and on social media. The player who committed the assault received just a warning from police after being given a 10-year ban by the local football association. Police say they issued the caution after careful consideration, but Toki believes there is an element of racial discrimination to the decision as attacks on white officials have led to assault charges and court proceedings.
Toki says it sends out the wrong message about protecting officials:
"This was an unprovoked attack and I don't really know why the police have come to this decision. I was injured above my eye and my kit was covered in blood, I believe they haven't done their job properly. There have been incidents in the past where they have taken individuals to court. I didn't want to mention it but it feels like discrimination against me. If something had happened against a white official, would it have been taken more seriously?" – Satyam Toki, FA Referee
Further outrage from Toki's assault ensued when, upon appeal, the perpetrator of the vicious attack had his FA playing ban reduce by half, to five years. This left many referees feeling incredibly uneasy about going out to officiate at a time when Toki's assault was on the front and back pages and there was a multitude of other attacks taking place, such another in the same week which left a referee with a perforated ear drum. Many officials said it did not sit right with them that criminals were being allowed to play again sooner, with a groundswell of opinion amongst referees that assaults on match officials should lead to a lifetime ban from football before a referee is killed, as was the case in Holland where 41 year old Richard Nieuwenhuizen was kicked to death by six teenagers and the father of one of the boys, when operating as an assistant referee.
The Threat To Elite Level Officials
The impact of violence and the threat of violence is not exclusive to grassroots level football however. On 8th February 2021 Premier League referee, Mike Dean felt he had no other option than to ask to not be involved in any Premier League games the following gameweek after he was targeted with online death threats alongside members of his family. The mental effects of being in the public eye and fearing for your safety by having to second guess your every move, are immeasurable. The fact that referees are simply human beings, who by nature make mistakes, is often lost on players, spectators and club officials who often see a badge on a black kit and fail to recognise the person with thoughts feelings at emotions behind the kit.
The head of Mike Dean's employer, the Professional Games Match Officials Limited (PGMOL), Mike Riley said:
"Threats and abuse of this nature are totally unacceptable and we fully support Mike's decision to report these messages his family received to the police; nobody should be a victim of abhorrent messages like this. Online abuse is unacceptable in any walk of life and more needs to be done to tackle the problem." – Mike Riley, Managing Director, PGMOL
The FA Mental Health Champions Scheme
On 3rd February 2021, The FA launched it's Mental Health Champions scheme to provide advice and support to referees and match officials across the grassroots game in England. The FA had recognised a growing need for such a support service to help their 27,451 affiliated officials, of which 1,718 are female and 9.5% are BAME, more than ever through the Coronavirus pandemic. This is required due to a level of insecurity on the pitch, with the threat of verbal and physical assaults at an all time high, alongside a large number of referees encountering mental health challenges due to the loss of autonomy stemming from the restrictions placed upon our freedoms, relatedness due to not being able to work and spend time with friends & colleagues and competence from not being able to get out refereeing and improve their skills and abilities.
Following on from being a founding signatory of the Mental Health Charter for Sport and Recreation and the Heads Up Mentally Healthy Football Declaration, The FA have worked closely with Mind to co-design the mental health champion role to help tackle the stigma of mental health within refereeing. As part of the scheme, 20 volunteers from within the grassroots refereeing community will champion the importance of mental wellbeing, encourage conversation and act as a point of contact for any match officials experiencing mental health problems, helping to signpost towards professional support services if required.
"The mental health and wellbeing of people is more important now than ever, and The FA is committed to putting important steps in place to support our grassroots referees and match officials. This scheme will help create a culture that promotes positive mental health amongst our refereeing community, encouraging honest and open conversations and breaking down the historic stigmas to inspire positive change. – Richard Glynne-Jones, FA National Referee Manager
The scheme is being piloted in 11 County FAs across the north of England and the Midlands, and all volunteers have received mental health awareness and champion role training. The intention is to expand the scheme nationally during 2021 and it is open to referees and match officials over the age of 18.
Northumberland County FA are one of those involved in the pilot, their Mental Health Champion, Darren McCall told The Newcastle Chronicle:
"Some of the abuse that the referees and assistants get is horrendous, it can be quite personal, and because you're the only one out there it can feel like quite an attack. People get so drawn into football matches that they forget that the officials are human beings. We make mistakes, nobody is perfect, but there's this feeling that any decision that doesn't go your way is an attack on your team. In the grassroots game, when you've got 22 players and a crowd of less than 50, you can hear any personal attacks. Unfortunately, abuse can come from all areas of the pitch: players, coaches, parents, spectators, so there are occasions where you could be getting it from all angles."
"Ninety minutes is a long time, and it can have a detrimental effect on your mental health, I've suffered two games back-to-back where I wanted to quit, the abuse was unbelievable from start to finish, so this role is really to try and promote awareness as well. My aim is to get round as many clubs, players, coaches, parents, make them aware that the abuse they're giving is giving people nightmares, it's not fair. My advice to people is, please, just be a bit careful about what you say. These people who are officiating are doing it for the love of the game, and without them both kids and adults wouldn't be able to play football."
"I wanted to do my bit and raise awareness especially as North East has the highest suicide rate in men in the country. The greatest challenge is that often, men don't tend to open up. They bottle their feeling inside – but that can lead to a bigger problem down the line." – Darren McCall, Northumberland FA Mental Health Champion & Referee
What Action Can We Take?
Given the period of time that online platforms have existed for abuse and discrimination to be spread without recourse, The Third Team will join The FA, Premier League, EFL, PFA, LMA, PGMOL, Kick It Out, Women in Football and the FSA in uniting for a social media boycott of Twitter, Facebook and Instagram from 3pm on Friday 30 April to 11.59pm on Monday 3 May, in response to the ongoing and sustained discriminatory abuse received online by referees and many others connected to football.
Tackling online discriminatory abuse is a priority for everyone. We recognise that referees across the game and many others connected to it from all backgrounds continue to receive sexist, racist and other forms of discriminatory abuse. We believe that football needs to unite to highlight the need for social media platforms to do more.
This is an important time in the developing debate about achieving meaningful change. Following English football's open letter to social media companies in February, Government hosted a roundtable with the social media companies and football stakeholders on Thursday 22 April. Therefore, a collective Weekend of Action, including a social media boycott, would help make a strong and well-timed collective statement.
Boycott action from football in isolation will, of course, not eradicate the scourge of online discriminatory abuse, but it will demonstrate that the game is willing to take voluntary and proactive steps in this continued fight.
At The Third Team I work individually and in collaboration with different professionals where I have developed workshops associated with Resilience and Mental Toughness Development to help referees. The workshops are interactive, where referees are encouraged to open up and share their experiences to help each other.
Feel free to contact me if you'd like to know more about my workshops and how I could help you or your officials.
Best Wishes,

Nathan Sherratt
Referee Educator & Managing Director of The Third Team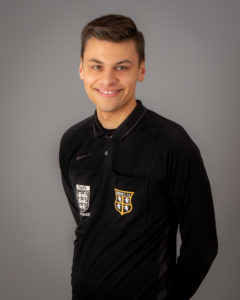 Nathan Sherratt, Referee Educator, Resilience Trainer and Managing Director of The Third Team.  A Mental Toughness Practitioner based in County Durham, North East England.