As we see people staying at home the world over and events of all sports, such as Wimbledon, The Masters & Euro 2020 cancelled we are left to ponder what the future holds for us.
However uncertain this period may be, this is the ideal opportunity to contemplate, refine and prepare ourselves for getting back out onto the pitch and officiating again.
First and foremost, everyone has a key role to play in helping their families, communities and more widely, the world back to normality. Many football associations and referees have echoed this sentiment, the health of everyone must be paramount and we need to support each other. However, for those not on the coal face, this period of time has presented an chance to step off the face paced treadmill of life and turn attentions to the future.
If improving your refereeing is important to you, use the additional time you now have to make it happen.
If you love officiating and want to climb the promotion ladder then relax. Football will return and when it does it will come thick and fast in order to undo the backlog. It is said that "you never know what have until it's gone" and that has never felt more true. It is clear by the amount of football content that is being broadcast online and on television, some of which is really useful to create discussion and debate around officiating decisions which helps referees continue their development whilst football is non-active. However, the hunger and desire for the return of live action is gaining strength and momentum the longer time passes.
What does this mean for referees?
If you are at a loss as to how to revitalise your refereeing career career with football paused then use the time you now have wisely. Adjust your mindset, there are a lot of positive things that you can do with more time. If improving your standard of officiating is a priority, then use the additional time you now have to turn it into a reality. In reality football hasn't stopped. The majority of those who work in the business and operational side of football are working and planning to continue the improvement the sport so that its ready when it is safe to return. The only missing piece is the football and that's only one part (admittedly, an important one) of a regular week.
Whether you are at University, have begun working or you are well into a non-sport career the advice is the same. 
Continuing your refereeing education and increasing your expertise and confidence.
It is common knowledge that refereeing is competitive. Unfortunately, there is a myth which states that "to succeed in football you have to work in football". Alongside that, frequently people often state "it's not what you know, it's who you know". Both of these statements lack any factual basis. They are an excuse for those who have wasted time afforded to them to assess the opportunity, learn and then act.
The most important thing is you. The way that your personality comes through when you referee, your passion for officiating, your knowledge of the laws of the game and your commitment to the time and sacrifices that have to be taken to be successful in refereeing. If you use the time you now have to improve your weaknesses, you can address and boost every one of these factors.
Stay at home as much as you can and support your family and those around you. You could spend some of your free time reading the law changes which will come into effect on 1st June 2020, learn and build your expertise and you will be ready to move forward in your refereeing career.
At The Third Team I work individually and in collaboration with different professionals where I have developed workshops associated with Resilience and Mental Toughness Development to help referees. The workshops are interactive, where referees are encouraged to open up and share their experiences to help each other.
Feel free to contact me if you'd like to know more about my workshops and how I could help you or your officials.
Best Wishes,

Nathan Sherratt
Referee Educator & Managing Director of The Third Team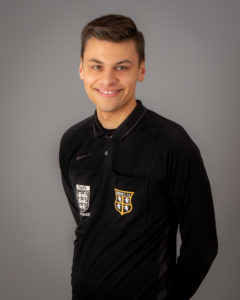 Nathan Sherratt, Referee Educator, Resilience Trainer and Managing Director of The Third Team.  A Mental Toughness Practitioner based in County Durham, North East England.