So often we hear words such as uncertainty, change, panic, stress, pressure, helpless, worried and anxious whenever we turn on the news. So when we have to face up to testing periods as referees, a positive and resilient mindset is one of a number of ways we can manage our Mental Health. 
How will this affect your Mental Health?
Most referees are more used to and enjoy the peace and focus of training by themselves however there are many group training sessions which officials attend to assist them in doing the training they find most difficult to do. Those activities are made easier by their love of being around the group and the support, camaraderie and banter that brings. This can be a big miss when you have to train alone and aren't being pushed on by colleagues.
If my Mental Health begins to suffer what may happen?
Changes to your daily routine, future worries and time alone may cause changes in your behaviour such as:
You becoming short tempered and irritable with friends & family members.  
You feel increasingly restless.  
Your sleep pattern is heavily disrupted. 
It's possible you may struggle to sleep at all.
Displays of anger and aggression are more frequent.
You may feel overcome by helplessness.
Physically your body may tell you that it is feeling more fatigued and your muscles may feel more tense, leading to finding difficulty in relaxing.
What can you do to combat negative changes in your behaviour:
1. Maintain your mindset in the present moment
Looking too far ahead into the future can make you feel overwhelmed and panicked. View the future positively by implementing useful daily routines, contributions, achievements and outcomes.   
Good examples of this are, making efforts to eat a balanced, healthy diet or begin the day with an exercise routine.
2. Be driven by the daily and weekly goals you set yourself
Setting goals is a proven method which many referees regularly use. It can provide motivation and confidence. It is strongly encouraged that officials give it a try and use the SMART principles, Specific, Measurable, Attainable, Realistic and Time framed.    
You may decide to take inspiration from a colleague who shared their plan with me recently.  
Their goals for last week were to do 20 minutes of indoor body weight exercises every day around their work and taking care of 2 extremely energetic young boys. In the sessions, they went challenged themselves with 40 mountain climbers and 40 press ups per day. They told me that as a result, they felt like they'd really achieved something and felt pretty good within themselves and how they're looking forward to attempting 45 of both exercises each day this week.
3. Concentrate on what you have
In testing periods, it's all too easy to look at the things unavailable to you in life. Whether that be having the ability to train at the gym, go into your workplace, attend referee development workshops, meet friends and family for food and drinks or go for a day out walking in the countryside.  
By analysing what you are unable to do, you can be disarmed into a feeling of helplessness. You can also begin to find it very difficult to be decisive and take actions, something which should come naturally to officials. It is important to prioritise thoughts around what is available to you.  
With regards to exercise and maintaining match fitness:
If you have the required space to lie down then you have all you need. There are a great many body weight exercises where no equipment is necessary.  
It is possible that you don't possess any weights but may have a rucksack in your wardrobe which could you fill with some tins or other weighty items so that you can do some lifting or more challenging squats. 
Does your garden have space to do shuttle runs if you are unable to go out for a run?
Maybe you're lucky, in that you have an old treadmill, rowing machine or exercise bike in your house that you haven't used for a while but could get the cogs turning once again.
What makes exercising regularly worth its while?
Research has shown that exercising is positive for our Mental Health in a number of ways:
As a result of improved Mental Health there is likely to be a short term benefit that will boost your exercise training. Put another way, if you prioritise daily exercise you'll continue to be more motivated, your energy levels will increase, stress levels will decrease and your mood will most probably be raised after exercise too.  
Anxiety and depression are potential side effects of going through a tough period and are increasingly common clinical disorders today. Using exercise as a therapy can be a very effective treatment to manage and surmount these disorders.
People have reported sleeping issues when their life and routines are thrown off course. Exercise can be very useful for helping to regulate sleeping patterns.
Someone's concept of themselves and their identity may be shifted significantly during a testing period. Job situations can change and you could be in a position where you aren't working full time. That is a big identity shift. Situations such as this is where setting yourself some realistic goals and ensuring you have created an environment that promotes feelings of confidence, focus & commitment to your self care are important.
Exercise is fantastic for the mind too. Even something as simple as going out for a walk can have a positive effect and research has shown that it is likely to reduce cognitive decline in aging adults. Regardless of your age, creating a stimulating environment around you and challenging yourself, creating a brain and body workout is recommended. Creating some mentally complex exercises such as shuttle running then making a decision on a tackle with one view, refreshing the environment you exercise in periodically and attempting different drills in your training program which you wouldn't usually do are great ways to go about this.
To summarise, we can all go through periods of change and transition in our lives, some of us will feel the impact more keenly than others. We all have to evaluate what price we place upon our mental health and how we can give ourselves the best chance to maintain it in the healthiest way.  
I hope this article is of use to you as a referee and is able to challenge your thinking so that you can make some informed choices on how you can positively adjustments the way you plan your day and all that you will incorporate into it.
At The Third Team I work individually and in collaboration with different professionals where I have developed workshops associated with Resilience and Mental Toughness Development to help referees. The workshops are interactive, where referees are encouraged to open up and share their experiences to help each other.
Feel free to contact me if you'd like to know more about my workshops and how I could help you or your officials.
Best Wishes,

Nathan Sherratt
Referee Educator & Managing Director of The Third Team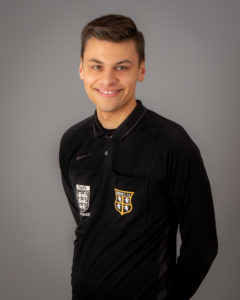 Nathan Sherratt, Referee Educator, Resilience Trainer and Managing Director of The Third Team.  A Mental Toughness Practitioner based in County Durham, North East England.