A big test for many referees is the fact that they agitate so much over what others think when they officiate that it becomes a massive hindrance.
Whilst it is important to care about other people's opinions, it becomes detrimental when officials worry too much about what others think of them to the degree that it distracts them from concentrating on refereeing football matches correctly.
Sports psychologists call this social approval or acceptance. It causes referees to look for stature from their colleagues in the form of respect, admiration, popularity, or wanting to fit in or be liked. Many people in society today aspire to have these qualities.
When you are overly conscious about the opinions of others, you can't concentrate on your performance, which is the most important thing. Additionally, this mindset also causes you to avoid mistakes or making bad decisions which is not a good mindset to reach your peak performance.
I once heard the story of a young female golfer. She lacked confidence in her game and consulted a sports psychologist to help her play with more confidence.
The longer the sports psychologist built a rapport with her, the more it became increasingly clear that she looked to other people for her confidence. If she was not celebrated after playing a good shot, she would begin to think negatively of herself.
Her brain went into overdrive, and she presumed that her playing partners had fallen out with her because they did not acknowledge when she played a good shot. She would think to herself, she must just not like me or maybe thinks I am a terrible player, and then proceed to lose confidence.
Additionally, she was in fear of humiliating herself when she played in competitions. Her aim was to not shoot a bad number or high number for fear of what others would say to her about her game. More importantly, what would they think about her as a person?
You should be wary of making comments such as, I am a bad referee today, I must not be a worthy person.
Let's be frank, many officials want admiration from their colleagues. But at the very least, you have to let go of what others may or may not be thinking about you when you referee. To concentrate on the game, focus on what is truly important during your performance.
At The Third Team I work individually and in collaboration with different professionals where I have developed workshops associated with Resilience and Mental Toughness Development to help referees. The workshops are interactive, where referees are encouraged to open up and share their experiences to help each other.
Feel free to contact me if you'd like to know more about my workshops and how I could help you or your officials.
Best Wishes,

Nathan Sherratt
Referee Educator & Managing Director of The Third Team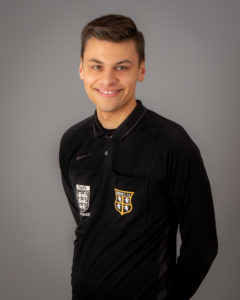 Nathan Sherratt, Referee Educator, Resilience Trainer and Managing Director of The Third Team.  A Mental Toughness Practitioner based in County Durham, North East England.