As we head towards a period of the season when Cup Finals are being played, let's take a look at how we approach big games as match officials. Do your thoughts turn to refereeing well in a Cup Final appointment?
All officials want to put in performances of a high standard on the biggest stage such as:
A gymnast who hopes to perfect their routine at a championship meeting.
A golfer who visualises making a birdie putt to win a golf tournament.
A basketball player who wants to throw the final shot to win a cup game.
Regrettably, many referees not only fall below the standard required, but underperform in important matches.
What happens to officials during key fixtures?
Many referees believe they just don't have what it takes to put in a big performance in big games such as Cup Finals. These officials see this type of performance as reserved for a select few of their colleagues.
Not only is that not true but it doesn't address why so many referees underperform.
Quite simply, underperforming in big games comes down to the expectation and pressure put on officials. The higher you set your expectations, the greater the pressure and, therefore, many referees fail to perform to their true ability level.
There are two main reasons why officials underperform in these circumstances:
One reason is that some referees see their competition as greater than it really is and they place too much importance on their competition. When the competition looks bigger than it is, you create more pressure upon yourself.
The other reason is that officials feel they need to perform to a greater degree than they ever have in the past. Excessively high expectations in addition to trying to be perfect are a recipe for underperformance.
A recent example of this came from the National Basketball League in the United States when the Philadelphia Sixers played against the Toronto Raptors in a knockout (Game 7s) game, with the winner advancing to the Eastern Conference Championship.
The Sixers head coach Brett Brown described the game as the most important of their season:"Playing in Game 7s is different. There just is a heightened sense of urgency in Game 7s, and it incrementally increases as the clock winds down."
The Sixers may have felt more pressure as a result to the "big match" approach. The Sixers missed their first eight shots and didn't score until midway through the first quarter. Also, the Sixers turned the ball over 15 times and made a few critical miscues late in the game.
One of the more consistent performers throughout the series was Sixers forward Jimmy Butler. Butler's approach to games looked to have a less frantic feel.
Butler: "We just want to win. Do whatever they ask me to do, try the best of my ability to win the game, and help in any way that they tell me or want me to do it."
The correct approach to a game doesn't ensure a flawless performance but it promotes consistency and keeps your mind from overly focusing the importance of a game.
Key Fixture Mindset:
Consistency starts with consistency in mental preparation.
You want to develop a consistent pre-match routine. Review previous fixtures to determine what has worked best for you in the past.
Consider the fact that "focusing on the process brings desired results." You don't want to obsess about what having a flawless performance or making a mistake would mean to you.
Instead, you want to focus on one phase of play at a time in key fixtures.
At The Third Team I work individually and in collaboration with different professionals where I have developed workshops associated with Resilience and Mental Toughness Development to help referees. The workshops are interactive, where referees are encouraged to open up and share their experiences to help each other.
Feel free to contact me if you'd like to know more about my workshops and how I could help you or your officials.
Best Wishes,

Nathan Sherratt
Referee Educator & Managing Director of The Third Team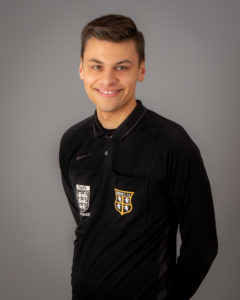 Nathan Sherratt, Referee Educator, Resilience Trainer and Managing Director of The Third Team.  A Mental Toughness Practitioner based in County Durham, North East England.