Many officials are reticent and averse to embracing change, both personally and professionally. Change, by its nature, is uncertain, and as referees we instinctively look to mitigate anything which takes us by surprise. We have routines for planning and preparing to take charge of fixtures we're appointed to and as such we like those processes to mainly, remain in place. Clearly, our most pressing challenge is that we are currently living in the midst of an Global Health Pandemic, and this has radically altered many aspects of our lives.
We're now communicating with those in charge of referee development and our colleagues in ways we haven't ever previously, this is now the way we're finding out the latest information. Law tests and technical webinars on topics such as dealing with mass confrontations are now taking place. Our interaction with officials currently at the level we aspire to is remote. Additionally, our time with our extended family and friends is only possible through this new way too. Change is an absolute necessity for us to have some semblance of normality in our lives at this moment in time, and we really have no other choice than to follow suit, whether we like it or not.
Surely the most productive thing to do would be to refocus our mindset and adopt a positive attitude to changes, viewing them as an opportunity to consider what new things we could add to our game when we're out in the middle. This could improve both, our performances and our enjoyment of refereeing, so why would we repel changes and view them as threats? More than likely you agree, but it is a lot easier said than done.
With all of these factors considered, I thought I´d share three beliefs and ideas I hold, which I think are important to bear in mind when viewing change.
Your Opinion is Crucial
When out in the middle or a member of an officiating team, you must remember that you are a qualified official too who knows the Laws of the Game and if you have information teammates don't then you must speak up. You must be emotionally invested to take control of your destiny as a referee with higher ambitions. Be sure to play your part in development & Referees Association meetings with your colleagues of all levels and have an opinion about the topics of discussion. Be sure that your opinions are constructive. You won't win any prizes for being critical of the opinions of others, so when you make a point think about if that point will add value to the discussion/debate. Nobody has knowledge of what will happen next in a world of global pandemic, so staying involved is key, it is just in a different manner. There is nothing negative about difference.
Provocation Leads to Innovation
Often individuals who provoke don't win many prizes in the popularity stakes. This, however is something which is changing. Those who provoke us, challenge our opinions and feelings on matters, such as how we manage situations as referees. Comedians often use provocation as a tool in their work. They impress provocation upon their audience by putting things into new and unusual settings, and this is important for referees in a changing world where the Laws which they apply are constantly evolving too. As such, referees should look to evolve the way they apply Laws and manage games, just as those Laws evolve on an annual basis. View provocation with curiosity, rather than hostility.
Opportunities Come Your Way When You Least Expect Them
It is poor practice to write ideas about how you may improve your refereeing off before you have fully appreciated them, pre-conceptions aren't good either. An idea you may view as a waste of time, may transpire to be the difference between getting a promotion or not. Trying something such as Yoga, which you may have initially dismissed can only be a positive thing as you have nothing to lose. Exposing yourself to new settings amongst new people with different ideas can give you more food for thought regarding what works for you to improve your officiating.
The fact that we don´t know what will happen in the future is the one certainty we have. 
The changes to our lives we are experiencing currently can be the chance you've been waiting for to make changes to your approach to refereeing or to reset yourself and begin again. You're future is a lot more likely to be filled with success if you're open to embracing change as something that can give you new and exciting opportunities.
Changes open the door to chances.
At The Third Team I work individually and in collaboration with different professionals where I have developed workshops associated with Resilience and Mental Toughness Development to help referees. The workshops are interactive, where referees are encouraged to open up and share their experiences to help each other.
Feel free to contact me if you'd like to know more about my workshops and how I could help you or your officials.
Best Wishes,

Nathan Sherratt
Referee Educator & Managing Director of The Third Team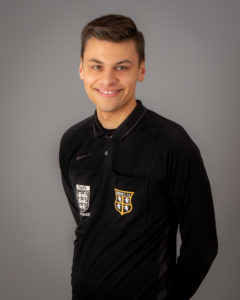 Nathan Sherratt, Referee Educator, Resilience Trainer and Managing Director of The Third Team.  A Mental Toughness Practitioner based in County Durham, North East England.