There's no doubt that the past couple of months have been tough for active officials who've had their seasons suddenly ground to a halt as a consequence of the COVID-19 pandemic.
Many refereeing colleagues have been telling me things such as:
"I've been working extremely hard to get promoted, right back into pre-season. I had hoped to finish my season strongly, I was on a run of good performances and obtaining high marks."
"I have put a lot of physical effort in this year, and it is exceptionally disappointing that it will count for nothing and I won't be able to take charge of the Cup Final my consistency over the season has earned me."
"My fellow officials are my some of my best friends. I feel extremely isolated without them and the banter we have on matchdays."
"I committed a lot of my time and effort to improving my refereeing. I fear that the extended period of time away from physical training and applying my skills on a matchday will hinder me in the long run."
"I spend so much of the year out officiating over weekends and through the week, I'm finding it tough to fulfil myself in the freshly vacated time I now have on my hands."
The sadness and disappointment referees are experiencing at the present time is very much understandable. Whilst football is not being played, officials can concentrate on matters that help to maintain their refereeing mindset and the enforced break allows them to analyse what may have been the imperfections in their skillset over the season so they can make changes and improvements prior to the recommencement of football.
A great first step for officials is to set small goals for each session that they dedicate to their development, this will increase their ability to focus and break down the areas they're looking to improve on into more manageable chunks. Quick wins lift your mood and give you increased confidence, this will make your refereeing development feel easier, as when you reach the end of each chunk you will feel a greater sense of achievement and that you're heading in the right direction. This means you go from chunk to chunk feeling motivated and are able to make the most of your development opportunity.
Once you have committed to your plan of self-improvement you should ask yourself which of your technical skills are most in need of improvement. Additionally, try to think about your fitness plan. There is nothing wrong with questioning and being accountable to yourself either, "What are the mental skills which I can develop to improve my future performances out in the middle?"
It is crucial to bear in mind that with every step in the right direction, when you start to see and feel the benefits of the improvement in your training and technique, your confidence will grow. When setting goals you should:
Set your long-term goal as an assessment of where you'd like to be by the end of the next season (whenever that may begin), and then from there, you can break your development down into chunks of progress within that time frame.
Analyse your observations and performance statistics from the current season to establish where you are now, as your starting point.
Leading on from your starting point, this will allow you to distinguish technical areas or performance statistics which you will need to improve. These will comprise your objectives.
Everyone learns and develops in different ways and at different paces. It may help certain referees to remain focused and motivated by using specific goal setting schemes, such as SMART Goals.
You can attain a higher level of success with your development program by regularly keeping track of, assessing and adjusting your goals on the basis of your progress over the weeks, months and season.
Putting goals in place is one thing, however the most crucial element of setting goals is achieving them. It is important to instil a regular programme which will lead to an enhancement in your physical condition and mentality.
Have three manageable goals which underpin each of your development sessions. Consider how you can improve one of your mental, physical and technical skills within each session.
We are currently experiencing an extremely difficult period for those of us who love refereeing, miss colleagues whom we count as friends, and miss the buzz of being out in the middle on a matchday. We should make it our aim to reflect upon this enforced break as a beneficial chapter we made the most of, once football resumes. Setting goals can boost our mental toughness, resilience and physical condition, as well as giving us greater confidence.
At The Third Team I work individually and in collaboration with different professionals where I have developed workshops associated with Resilience and Mental Toughness Development to help referees. The workshops are interactive, where referees are encouraged to open up and share their experiences to help each other.
Feel free to contact me if you'd like to know more about my workshops and how I could help you or your officials.
Best Wishes,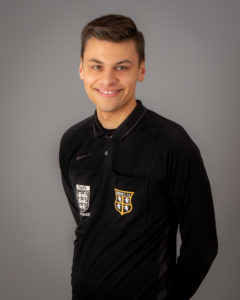 Nathan Sherratt, Referee Educator, Resilience Trainer and Managing Director of The Third Team.  A Mental Toughness Practitioner based in County Durham, North East England.