This week has been World Autism Awareness Week and today, this blog is released on World Autism Awareness day. As an autistic person, I feel that many things are levelled at and labels put on autistic people and that these labels come from a place of ignorance and a lack of education. I hope this blog can address the power and impact of labels upon those who they are placed upon and what it means for those people.
Referee
The word "referee" is very powerful and evokes many thoughts and emotions amongst different people.  Ask a fellow official, they may say "an impartial person who wants to make decisions and get them right."  Ant Canavan, my co-host of The Final Whistle and owner of The Referee Forum says "There is a pride I have in pulling on the black kit". 
A professional footballer that I am close to said "Someone who has a need to take control of a game". A grassroots level player told me that "Referees can be a 12th player for a team depending upon how they're treated, they can be guilt tripped" Some fans say the "bastard in black", "or the person who often spoils the game." 
The view of fans I spoke to were:
"Someone who is in charge.  They are in the spotlight, tends to be a disliked figure overall but does a very difficult job."
"They have a difficult job but don't always help themselves. They're controlled by the Laws of The Game and don't have ant room to use common sense."
Mental Health
Now let us think about the words "mental health."
What comes to your mind?  "People suffering, at war with themselves, facing an internal battle."  Others may say "Someone who is surviving definitely not thriving."
The grassroots player I spoke to said "When someone completes suicide, I feel I have to accept their choice. A refereeing colleague told me, of mental health: "There's a huge stigma about opening up and talking. It can be a struggle to talk due to not receiving the correct responses and a fear of not being taken seriously".  When I spoke to a fan, I was told; "I still don't fully think that mental health is understood or accepted in everyday life. Many brush it off and put it down to overthinking or using it as a vehicle to attain sympathy".
The view from the professional football dressing room was: "More needs to be done to tackle mental ill-health, specifically in football"
For many people, the words mental health have negative connotations and are looked cynically.  They think about people who have bipolar or psychosis.  People who are attention seekers.  Football pundits have a lot to answer for in this regard, where the term "mental weakness" is often talked about which does not help matters.
 Autism
"Autism" is a word I am familiar with as you will know if you have engaged with my content over the last year.  The word in my eyes is "a disability, not being able to do things and also a stick used to beat people with as an insult, which is a massive insult to autistic people."  An associate says, "a complex phenomenon, which most people get wrong.  autistic people are very different, some may be anxious individuals some not.  Some may be severely, impinged by the condition where they struggle to communicate, whereas others are very eloquent.  Many autistic people cannot look other people in the eye and are awkward in social situations, others are the opposite and are comfortable in these situations."
Amongst those in professional football, Autism is seen as: "Something that is not known about too much, but we know it is a big problem for those concerned. I know that it can be hard for Autistic people to go about a regular daily life and feel good about themselves. It is similar to mental health in regard to needing more support to help individuals in need."
A referee told me: "Autism is a sensitive subject due to the stereotypes people have in their minds. (Neurotypical) people would rather avoid the topics and the individuals (with Autism) due to the sensitivity and what they've heard through the grapevine".
Within a fanbase I was told that "Autistic people are viewed as lesser than neurotypical people through no fault of the affected person. There is a clear lack of understanding around the condition which is something that must change".
Autistic people have a 25% higher level of intrinsic anxiety in comparison to a neurotypical individual, so the link between autism and mental ill-health is a very close one. The two primary causes of death amongst autistic people are cardiac arrests (due to the impact of increased stress on the body) and suicide (due to being naturally much closer to feeling of depression and anxiety). Autistic people are also more likely to die younger than their neurotypical peers of the same age and gender.
Consider
During the next few weeks referees should be mindful that the word "referee" is very powerful.  Players will have naturally missed playing football and training.  They will be hyped up for getting back into playing matches.  Emotions are going to be running high. Throw in the word "referee" and we could be in for an interesting time!
Players may get more wound up at decisions, they may abuse us more, they may get more agitated at some decisions that we make.
At The Third Team I work individually and in collaboration with different professionals where I have developed workshops associated with Resilience and Mental Toughness Development to help referees. The workshops are interactive, where referees are encouraged to open up and share their experiences to help each other.
Feel free to contact me if you'd like to know more about my workshops and how I could help you or your officials.
Best Wishes,
Nathan Sherratt
Referee Educator & Managing Director of The Third Team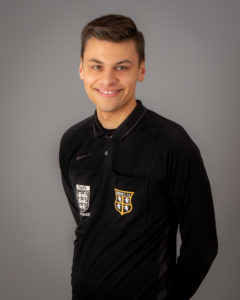 Nathan Sherratt, Referee Educator, Resilience Trainer and Managing Director of The Third Team.  A Mental Toughness Practitioner based in County Durham, North East England.