How do you surmount slumps in your form? When you've had a few bad games or performances, do you expect that trend to continue?
In my experience it all begins with a having a bad game. Your confidence takes a hit and you begin to have doubts about your ability due to a poor performance.
You start refereeing "not to make a mistake" instead of "refereeing to allow the game to flow" and you overthink every aspect of your decision making.
You go in search for ways to break the cycle of bad performances but they goes on.
All officials go through a period of poor performances throughout their careers, its not possible to have 100% accuracy 100% of the time.
Firstly, many referees talk themselves into slumps by calling their performance dip a "slump" which exacerbate the effects.
The first step in getting out of a slump is nullify any self-talk that you are in a slump.
By understanding that ups and downs that are an inherent part of performances, you can relieve yourself of those perfectionist standards and expectations.
National Hockey League side, the Columbus Blue Jackets, head coach Nick Foligno commented on how his team altered their style of play during a performance dip.
Foligno believed his team was overthinking the way they played on the ice and went in search of the perfect opportunity to score, rather than simply taking shots.
Foligno: "When things are going well, the puck is going at the net. Everyone's crashing, pucks are bouncing off you and there are pucks that are open and you somehow just bang it in. Right now, we're trying an extra play because we're not confident enough to get the puck on net."
On the basis of how his team viewed their winless run, Foligno felt his team had the wrong mindset, which was intensified when they made a mistake or were trailing in a game.
Foligno: "It just seems like we don't have enough confidence. It sounds stupid, but it's kind of the thing I notice the most. When we get scored on, it's like we just deflate. It's a mental toughness that we need to have and we don't have it right now."
Why not consider these tips if you're facing a drop-off in performance:
Every game is a new opportunity for success. A "slump" is a focus on games that have already been consigned to the history books. When you focus on the past, your expectation is that things will not change.
Referee to your strengths and avoid trying too hard or looking for the perfect advantage or penalty decision. Trying to do too much or to be perfect interferes with the natural flow of your game and does not allow you to trust in the way you referee.
At The Third Team I work individually and in collaboration with different professionals where I have developed workshops associated with Resilience and Mental Toughness Development to help referees. The workshops are interactive, where referees are encouraged to open up and share their experiences to help each other.
Feel free to contact me if you'd like to know more about my workshops and how I could help you or your officials.
Best Wishes,

Nathan Sherratt
Referee Educator & Managing Director of The Third Team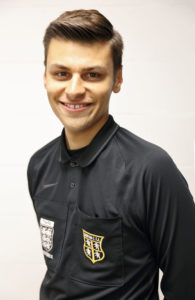 Nathan Sherratt, Referee Educator, Resilience Trainer and Managing Director of The Third Team.  A Mental Toughness Practitioner based near Durham, North East England.