Emotions can supercharge or ruin the performance of a referee out in the middle. Have you ever had a game where players, spectators or club officials got into your head? How well did you respond? Did you become so angry that you couldn't focus on refereeing the game? Did your performance go beyond your control or you made more mistakes because you became extremely frustrated? You want to be in full control of your emotions, to be your best, as opposed to allowing your emotions to control you.
However, controlling emotions, when the pressure on you is high, is easier said than done. A great example of this is the American football club, the New York Giants' wide receiver Odell Beckham Jr., a young player with massive potential. In fact, Beckham has more receptions and more receiving yards in his first 25 NFL games than any player in NFL history.
Despite his talent and ability to make acrobatic catches, Beckman occasionally allows himself to become unsettled by opponents who are distracting him with abuse.
In a game against the Carolina Panthers, the Panthers cornerback Josh Norman triggered Beckman's emotions with aggressive, physical play and constant verbal taunts.
During the game, the two players were flagged for unnecessary roughness and continued their verbal altercation well after the game ended.
Beckham allowed his emotions to get the best of him…
Though Beckham caught 6 of 9 passes for 76, it was well below his 132 yards per game in his previous six games.
Beckham's lack of emotional control caused him to drop a 52-yard touchdown pass during the game.
Additionally, Beckham picked up three personal fouls and was handed a one match ban by the NFL which affected the Giants chances for making the 2015 playoffs.
Beckham stated he has been "dealing with it [verbal taunts] every week."
Why does this happen so often to Beckham?
Verbal taunting in the NFL is common practice but it continues against Beckham because it works. It takes Beckham out of his game and other teams have taken notice how to get Beckham riled.
NFL Hall of Fame wide receiver Michael Irvin commented that success is the best way to answer critics and that it is imperative to maintain emotional control to play at your best.
Irvin: "The more you react, the more people will try to rattle you. It's just what they are going to do… Respond to it on the football field with catches and touchdowns. Do what you do and that's how you beat all of it. The couple of balls he dropped, he had Josh Norman beat both times… Josh Norman gets into fights with everybody. Every receiver he plays against, he gets into fights."
By learning to maintain your composure, you will find it easier to focus on your game and deliver out in the middle.
Strategy to be Mentally Ready for Dissent:
Mentally prepare to be challenged – Be ready for dissenting players, spectators and club officials, think about your strategy for coping. Keep in mind that players, spectators and club officials are attempting to level the playing field because they see you as someone who can influence the flow of the game.
Anticipate and prepare yourself before it happens. How will you handle it? Think about it now so you will know what to do. Tell yourself, "Relax, Focus, Referee my game. I am a good referee; I just need to focus on what I do best."
After the match, don't communicate with dissenting voices who are disappointed with the outcome. Don't allow their words to penetrate your mind and thought processes.
At The Third Team I work individually and in collaboration with different professionals where I have developed workshops associated with Resilience and Mental Toughness Development to help referees. The workshops are interactive, where referees are encouraged to open up and share their experiences to help each other.
Feel free to contact me if you'd like to know more about my workshops and how I could help you or your officials.
Best Wishes,

Nathan Sherratt
Referee Educator & Managing Director of The Third Team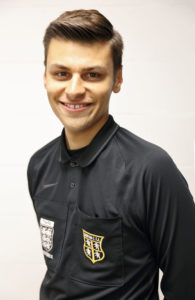 Nathan Sherratt, Referee Educator, Resilience Trainer and Managing Director of The Third Team.  A Mental Toughness Practitioner based near Durham, North East England.