As lockdown restrictions are beginning to ease following the Coronavirus (COVID-19) Pandemic, many officicials, the world over, have begun to turn their attentions towards preparing, physically and mentally, for their return to action.
So why is it then, that so many referees are unable to find the motivation to improve themselves, even when they have the time to do so? 
If dedication to training and learning the technical side of officiating leads to improvement, why do so many referees lack the motivation to learn?
Motivation is the most crucial element of sporting achievement. Every official will, periodically, experience spells where motivation is lacking. Without motivation, natural hurdles can become insurmountable.
If you think of periods when you felt a lack of motivation, what do you think caused your lack of motivation? Did you have a series of poor performances in games? Did a injuries sideline you for any period of time? Did your passion for refereeing dwindle?
Challenging circumstances and poor officiating can drain your motivation. 
A major cause of low levels of motivation is a lack of ability to achieve consistency. Inconsistent performances can be caused by niggling injuries, unobtainable expectations, over-emphasis on mistakes, perfectionism, excessive levels of criticism, a lack of recognition, failure to reach set goals or adverse personal circumstances such as a family illness.
Without motivation, you will be limited to the same level of performance for a prolonged period.
When we look to another sport for an example of this, we see that in golf, COVID-19 disrupted all of the golf tours across the world, after golf courses were closed globally. Matt Fitzpatrick, the No. 25 ranked golfer in the world, was forced to self-isolate and had limited ability to improve his golf game over a period of months.
Initially, Fitzpatrick welcomed the break from a rigorous golf schedule akin to being on a merry-go-round. While stuck at home, Fitzpatrick set up a small net so he could continue to work on his swing as opposed to not picking up a club at all.
Fitzpatrick was still battling a lack of motivation as he waited for the tour he plays on to recommence.
Of the experience, Fitzpatrick said: "Obviously, it wasn't very fulfilling [practicing at home with a make-shift net]. Once I did that for awhile, I got fed up with it. It was like dragging myself two yards just to go out back. I didn't have far to walk [to practice in my backyard], but it felt like a bit of a chore."
So, for officials, even when you feel like training and sharpening up the technical side of your refereeing is a drag, a little bit of motivation will give you the mental boost you need to get out the door and focus on improving your officiating.
Improving your marks or taking your refereeing to the next level begins with motivation.
Unleashing your Motivation:
Motivation is not something that can simply be conjured up, you have to take ownership and build your motivation levels. Nobody can hand you motivation, you must find the motivation from within yourself. 
Seek to discover the reason(s) behind your lack of motivation. Consider all aspects of your style of officiating from physical conditioning, positioning, planning, mentality, match control to rest and recuperation.
Clearly establish how this challenge has affected your refereeing. Ask yourself, "Can I overcome this obstacle?"
In all probability, you can take action to overcome the challenge or alter your approach to it. Identify 2-3 goals to meet the issues your situation has presented.
Sustained levels of motivation will help you elevate your level of refereeing, improve your mental toughness, and achieve much better marks from clubs and observers as a result.
At The Third Team I work individually and in collaboration with different professionals where I have developed workshops associated with Resilience and Mental Toughness Development to help referees. The workshops are interactive, where referees are encouraged to open up and share their experiences to help each other.
Feel free to contact me if you'd like to know more about my workshops and how I could help you or your officials.
Best Wishes,

Nathan Sherratt
Referee Educator & Managing Director of The Third Team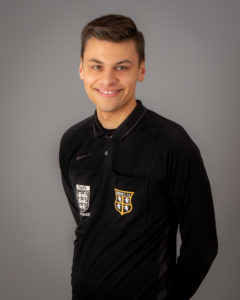 Nathan Sherratt, Referee Educator, Resilience Trainer and Managing Director of The Third Team.  A Mental Toughness Practitioner based in County Durham, North East England.