What is Your Goal When You Are Refereeing?
Are you focused on finishing top of your banding table? Are you looking to achieve an improvement in your performances? Do you want to rank higher than a colleague?
The goals you set at the start of a season will affect your focus during the season, and your focus will influence how you referee. For example, if your goal is to beat a colleague to promotion, you will focus on where that official is in the banding table. You will look for them throughout the season. If you're ahead, you will worry about your colleague catching up, especially if you are going through a tough run of form, which is natural for a referee to experience over the course of a season.
If you are some way down the banding table, you will referee to the best of your ability in every game, showing no regard for the performances of colleagues and you'll abandon your initial strategy to compete. All this worry will expend valuable mental and physical energy, depleting those resources needed for a strong finish to the season. However, if you are focusing on specific match strategies for games you are appointed to, all of your attention and efforts will go into the two teams you're officiating on a week by week basis. When your mind is fully focused, this allows your body to efficiently work at maximum capacity.
If we apply this principle to a similar situation from another sport, we can understand how focusing was the key for American triathlete, Andy Krueger at the USA Triathlon Age Group Sprint National Championships. Krueger earned his first age-group national champion title by staying focused solely on his race strategy. Krueger discussed his previous issues with focusing and highlighted his mental strategy for the competition that resulted in his successful results.
"I used to go into races with the goal of a podium or a top-10 finish, and I was so focused on the people that were ahead of me that I would screw up my own race. So I went into today with three personal goals that, even if I was in last place, I could still accomplish: one for the swim, one for the bike and one for the run. I executed those three goals, and it turned into an awesome performance." – Andrew Kruger
As Krueger stated, focusing on "racing your race" is the only strategy that leads to optimal performance. Referees can take this principle too, and adopt the mantra of "Referee your game". Refereeing your game requires that you let go of the last game you took charge of, the last error you made, how bad you felt earlier in the season, who is in front of you or your current place in the banding table. Refereeing your game necessitates that you are fully immersed in how you are refereeing at the present time and your strategy for each fixture you're appointed to.
Refereeing Your Game Means Focusing on:
Your physical fitness
Your pre-match preparation
Being calm
Your mental fitness
Your strategy for each game – Raising and lowering your profile depending on the flow of the match.
Keep in mind, that your game plan is about what works best for your style of refereeing, so why focus on anything else?
Refereeing Your Game:
Create a match strategy for each game you officiate. Focus on delivering the game to the best of your ability. If you create a plan and work on focusing on that plan in all of your games (it's even more advantageous if you can get into this habit right from the start of your pre-season), you'll make it easier to maintain that focus come matchday. When you focus on marks, how you're perceived by colleagues, or other games, stop and refocus on your game plan for the match you're officiating next. Stop watching what your colleagues are doing around you!
At The Third Team I work individually and in collaboration with different professionals where I have developed workshops associated with Resilience and Mental Toughness Development to help referees. The workshops are interactive, where referees are encouraged to open up and share their experiences to help each other.
Feel free to contact me if you'd like to know more about my workshops and how I could help you or your officials.
Best Wishes,

Nathan Sherratt
Referee Educator & Managing Director of The Third Team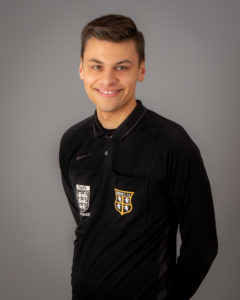 Nathan Sherratt, Referee Educator, Resilience Trainer and Managing Director of The Third Team.  A Mental Toughness Practitioner based in County Durham, North East England.