As referees, we are experiencing an uneasy period due to the lack of activity over the past 5 months. Coronavirus has meant that players, officials & club staff alike have had come to terms with self-isolating, social distancing and quarantine.
With us facing an uncertain future, the majority of the world over, referees are desperate to enjoy some normality and begin officiating again. For these referees, football gives them a focus, and they officiate for several reasons:
The challenges of a game
Having a focus to exercise and stay in shape for
The enjoyment of being a part of the game
The social aspects of being part of an officiating team
Traveling to new places and visiting new grounds
Being involved in football is rewarding, fulfilling and enjoyable. So, it would make sense that all referees would want to get back out in the middle as soon as possible and resume their careers.
Returning to officiate is easier said than done. Referees, like anyone else in life, have some doubts in their minds and worry about their safety as coronavirus restrictions begin to ease.
Many officials love football and want to be on a pitch very soon, however it is natural to feel hesitant with regards to being back with a while in your hand or even to feel panicked about recommencing any form of football. 
When faced with a situation such as this you may experience a lot of anxiety and begin to question certain things, such as:
Is it too early to for football to recommence?
Does my family feel comfortable with me being involved in games?
Will I have to wear a mask during fixtures I officiate?
Will spectators be allowed to attend?
If a colleague, player or club official has the virus will I contract it from them?
What if I am asymptomatic and spread the virus to a colleague, player or club official?
To have these concerns is entirely justified but contending with your feelings of anxiety is a key factor when approaching your return to football, albeit with a few differences.
When it is safe to return to action, it is important for you to not overthink all potential risks possible while stepping onto the field. Learning how to relax your body and calm your mind will be beneficial as you transition from distanced contact during the pandemic to relative normality.
From the perspective of a player, FC Barcelona Captain, Lionel Messi, spoke of his excitement at the prospect of resuming playing again but tempered that with caution regarding focusing overly on the possible risk of illness.
Messi: "There's a risk of infection everywhere, when you leave your house there's a risk, so I think we shouldn't think too much about it because if you do you won't want to go anywhere. But we must understand that it's essential we comply with the protocols and follow the prevention measures as much as we can. Returning to training is the first step but we shouldn't get complacent and we must take all precautions necessary. Personally, I'm looking forward to the competition returning. [Even though] we know it's going to all be very strange, without anyone in the stands."
However natural it may be to be nervous and have doubts about getting back into the middle, you don't want your concerns to become full blown fears as this will undoubtedly affect your concentration and match control.
When matchday rolls around again; take precautions, maintain a positive frame of mind, be diligent, enjoy your officiating and talk to a colleague or someone around if you are having any difficulties.
Summary:
First of all, it is normal to have some doubts about your match sharpness and ability when you return, this is similar to when you return after an injury or even begin your preseason after a break from football.
When you're preparing for a game you may find it beneficial to visualise yourself when you were refereeing well. Can you see yourself delivering a game with a high level of accuracy in your decision making when you return to the middle. Look to relive your better performances from last season in your mind's eye in the build up to your first post-lockdown fixture.
Remember, everyone is having the same experience as you. The players and club officials have not been part of a matchday for a few months either. Your mindset will allow you to return with confidence.
At The Third Team I work individually and in collaboration with different professionals where I have developed workshops associated with Resilience and Mental Toughness Development to help referees. The workshops are interactive, where referees are encouraged to open up and share their experiences to help each other.
Feel free to contact me if you'd like to know more about my workshops and how I could help you or your officials.
Best Wishes,

Nathan Sherratt
Referee Educator & Managing Director of The Third Team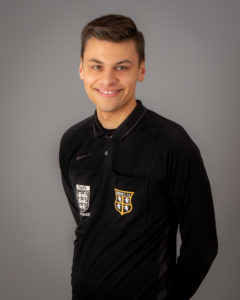 Nathan Sherratt, Referee Educator, Resilience Trainer and Managing Director of The Third Team.  A Mental Toughness Practitioner based in County Durham, North East England.