Confidence and trust in your skills go hand-in-hand.
Without confidence, you won't believe in your ability to perform under pressure. Without developing trust in your skills, you won't have the confidence required heading into an appointment.
So, which comes first, trust or confidence? 
How do you develop these mental skills to allow you to perform at your peak?
Let's examine the mental skills of confidence and trust:
What is Confidence?
Believing you have the physical and mental attributes to perform a skill.
Having the belief you can develop the requisite skills through mental and physical training sessions.
Believing in your ability to perform a skill on matchday in spite of mounting pressure.
What is Trust?
Knowing that you have put in the physical and mental training repetitively so that you can have peace of mind and rely on muscle memory when out in the middle.
Simplifying your officiating style during fixtures.
Being decisive and refereeing athletically. Staying in the present with little or no thought about the outcome of the fixture.
As you can see, confidence and trust influence each other. Let's simplify matters. Trust is built through repetition and practice, and confidence is fostered through preparation and recognition of your successes, improvements, and positive qualities.
When you lack trust or confidence, you under-perform or are hesitant out on the field of play.
Using Trust And Confidence to Boost Performance as a Player
National Basketball Association team, the Philadelphia 76ers' former Point Guard Ben Simmons, is known for his aggressive defence and passing, but he is also known for his hesitancy in taking outside jump shots, especially from three-point range.
In his first three seasons at Philadelphia, Simmons only attempted 3 shots from the 3-point line going 1-for-3. In the first few games of the 2020-21 season, Simmons attempted two 3-pointers and made both.
Simmons had been practicing and working on his 3-point shot before games and in training, developing both confidence and trust in his shot. It is clear that Simmons' work paid off.
Simmons commented on one of his three-pointers that season against the Orlando Magic. With no hesitancy, Simmons just released the ball with no conscious thought or worry about the outcome.
"I came down [court]… Joel (Embiid) threw [the ball] to me in the corner, and I let that go. Joel [Embid] threw the pass, he knew I was gonna put it up. It was a shot that I work on, corner 3s. I feel comfortable taking it so I knocked it down." – Ben Simmons, Former Philadelphia 76ers' Point Guard
Current teammate Seth Curry, who was also at the Philadelphia 76ers with Simmons, talked about his confidence in Simmons' ability to knock down three-pointers.
"I've seen him make it in practice, and I know he can knock it down. Especially from the corner, so it's just a matter of him doing it in a game and stepping into it with confidence. It didn't look like there was too much hesitation on the shot, and I expected it to go in, to be honest." – Seth Curry, Brooklyn Nets & Ex-Philadelphia 76ers Player
When you work on your physical skills, without self-judgment or harsh criticism, you build the needed trust and confidence to perform at your peak under the pressure of fixture.
How to Build Trust and Confidence:
Practice, prepare, test your skills, and repeat.
Visualise yourself performing the skill successfully on the field of play. When you visualise, you imprint those images in your mind and build the trust and confidence necessary to be successful on matchday.
Visualise or mentally rehearse yourself refereeing freely and athletically during your warm-up routine. Get into the mindset that all your training is behind you and it's time to just officiate with freedom.
At The Third Team I work individually and in collaboration with different professionals where I have developed workshops and 1-2-1 sessions associated with Resilience and Mental Toughness Development to help referees. The workshops and 1-2-1 sessions are interactive, where referees are encouraged to open up and share their experiences to help themselves and each other.
Feel free to contact me if you'd like to know more about my workshops or 1-2-1 sessions and how I could help you or your officials.
Best Wishes,

Nathan Sherratt
Referee Educator & Managing Director of The Third Team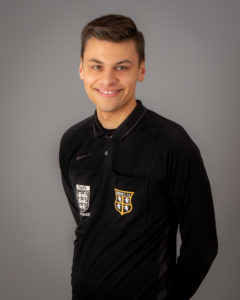 Nathan Sherratt, Referee Educator, Resilience Trainer and Managing Director of The Third Team.  A Mental Toughness Practitioner based in County Durham, North East England.