Do you struggle to officiate after a significant period of time away from the field of play?
Returning from time away is challenging for even the most experienced referees. Although a long layoff can rest your body, some officials feel a bit 'rusty' when they return to refereeing. Some officials refer to this experience as 'ring rust'.
'Ring rust' refers to a lack of intensity or focus due to inactivity, usually early in a season.
'Ring rust' is primarily a mental phenomenon. You can run miles when training, go full speed during drills, and practice decision making, but none of those thoroughly prepare you for the first time you set foot across the white line with a flag or whistle in hand.
In other words, if you are not mentally prepared to referee, then you are not ready to officiate.
Without mental preparation, you will overthink each decision, be a step behind the play, and feel sluggish.
Just because you may be physically inactive does not mean you should be mentally inactive. One of the most effective ways to avoid 'ring rust' is to maintain a high level of mental preparation.
Visualisation is a valuable mental tool to experience a refereeing performance at game speed without stepping onto the field.
You can visualise many scenarios that will maintain your game readiness.
For example:
You can visualise feeling a build-up of excitement and energy during warmup.
You can visualise feeling confident and getting into the game's flow quickly.
You can visualise yourself making quick and intelligent decisions.
You can visualise yourself making successful changes in direction and seeing the whole field of play.
You can visualise yourself making decisions on key match incidents such as penalties and dismissals.
Mentally experiencing the game shapes how you officiate the game.
The Players Perspective
From a playing perspective, earlier this year, many players who play football in the United States' Major League Soccer (MLS) were on a hiatus from their clubs due to representing their national teams as they prepare for the FIFA World Cup.
After the World Cup qualifiers, players needed to shift gear and refocus on their MLS clubs.
In their first game back in MLS action, the Seattle Sounders were looking to make a strong mid-season push. Seattle were 11th in the 14-team Western Conference, consequently, the team couldn't afford to have ring rust.
Seattle manager, Brian Schmetzer understood the importance of overcoming ring rust for the team to gain momentum in their next set of fixtures.
"We want to have a good performance against Minnesota because that kind of steamrolls into a good performance against New York City. We can't just lay an egg against Minnesota and expect the team is going to snap out of any funk. After a two-week delay, there is some rust that kind of ruins a little bit of your mojo." – Brian Schmetzer, Seattle Sounders Manager
You can shake off the rust when you are mentally prepared to referee. That is why the importance of mental training cannot be overstated.
Tip for Preventing 'Ring Rust'
Take 10 minutes before and after each training session to visualise officiating at match speed. When you combine mental preparation with physical preparation, you will be able to quickly get into the flow of the game and referee at your peak level from your first blow of the whistle.
At The Third Team I work individually and in collaboration with different professionals where I have developed workshops and 1-2-1 sessions associated with Resilience and Mental Toughness Development to help referees. The workshops and 1-2-1 sessions are interactive, where referees are encouraged to open up and share their experiences to help themselves and each other.
Feel free to contact me if you'd like to know more about my workshops or 1-2-1 sessions and how I could help you or your officials.
Best Wishes,

Nathan Sherratt
Referee Educator & Managing Director of The Third Team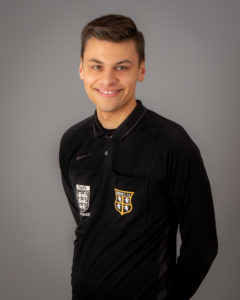 Nathan Sherratt, Referee Educator, Resilience Trainer and Managing Director of The Third Team.  A Mental Toughness Practitioner based in County Durham, North East England.