Mindful meditation, thanks to the scientific evidence that has emerged in recent years, has proved useful for referees. As many officials have long understood, the real competition – even if it may seem a bit mystical – is within ourselves. You can't overlook the benefits that this kind of meditation offers to those who referee and that allows us to come to terms with our strongest rival: us.
7 Benefits of Mindfulness Meditation
What are the advantages of practicing mindfulness meditation? Let's look at some of the main benefits of practicing mindfulness:
1. Reduces Stress
Those who officiate, not only in the professional game but also at grassroots level, know that one of the worst enemies is stress. Not only the stress that accumulates during physical activity, for example in the pre-match warmup or in the most intense periods of training, but also everything that invests us on matchday. Mindfulness is a type of meditation that allows the reduction of stress, it has been shown that refereeing or refereeing under stress has a clear negative impact on officiating performance.
Studies have shown that in referees who practice meditation there is a decrease in cortisol, the stress hormone. Practicing mindfulness constantly allows the body to learn to relax and manage stressful moments in a healthier way. In addition, it helps to create a more positive and proactive mental approach to difficulties and problems, which is also useful for improving performance.
2. Increases Tolerance to Pain (Even for those who have suffered an injury)
A study by the University of Kent shows that meditation improves pain management: injured officials increased their tolerance threshold thanks to the practice of Mindfulness. The research was carried out on a sample of 20 referees (14 males, 6 females), between the ages of 21 and 36 who had suffered serious injuries (with a minimum of 3 months of prognosis).
They were divided into two groups, both following the normal path of physiotherapy, and one of these held sessions of one and a half hours a week (for a total of 2 months), practicing mindfulness.
Various tools were used:
Cold Pressor Test
Visual Analogue Scale
Mindful Attention Awareness Scale
Depression Anxiety Stress Scale
Profile of Mood States
These measuring instruments showed that pain tolerance was increased in subjects who were part of the group practicing mindfulness meditation.
3. Strengthens The Immune System
As mentioned, stress is a real enemy for every official which, in addition, weakens the immune system and a referee can't afford to fall ill especially during periods of intense training or key points within the season.
Many studies have shown that meditation, in addition to reducing stress, also leads to an improvement of the immune system.
In particular, recent research published indicates that mindfulness meditation:
Strengthens the immune system.
Reduces blood pressure.
Improves cognitive function.
Even though we are only at the beginning of a broader path of mindfulness research and investigation, it is clear that meditation offers undeniable advantages, which can be achieved even with a limited amount of practice per day.
4. Helps You Concentrate
Great referees are aware of the importance of the mind, especially as the mental condition is a fundamental part of performing well. You have to stay absolutely focused, even more so when you are about to make a decision on a key match incident (KMI), or when you are only a few moments from delivering a game successfully. Distractions such as thinking of certain club officials will only hurt your performance. It is a mechanism that pushes the official to self-sabotage, and meditation is always able to defuse it, helping the referee's concentration. Everyone can improve thanks to the mindfulness that focuses on the present moment, pushing every official to give their best.
5. Improves Sleep & Recovery Times
Sleeping is a necessity for everyone, professional and grassroots referees alike. A recent study published has revealed several problems related to officials with sleep issues:
Mood disorders.
Inability to concentrate.
Increased anxiety.
Reduced motor control.
Weight gain.
On the contrary, it has been seen that referees who practice meditation with constancy, have a higher quality of sleep and find it easier to fall asleep. There was also a decrease in recovery times, a strengthening of the immune system.
6. Improves Endurance
Practicing mindfulness also has important results on the human body: officials who visualise the achievement of a specific goal through meditation (typically in mindfulness it is about breathing exercises) can train the body to work longer, thus improving the resistance to fatigue.
And training means trying and failing, repeatedly, and often to make things worse are the negative thoughts that break down the morale and introduce a pattern of negativity in the referee's mind.
Mindfulness meditation helps to break away from destructive and unhealthy thoughts that do not allow the official to achieve the goals set.
"I have failed over and over and over and over again in my life. And that's why I'm succeed." – Michael Jordan, Former American Basketball Player
7. Makes You Aware of Yourself & Your Body
With increased awareness referees can identify and conquer those areas of shadow that put them in difficult, mental and emotional states that are latent and affect the outcome of various challenges, making them seem even more challenging than they really are.
Thanks to mindfulness meditation you have a greater awareness of yourself, with limits, strengths, fears and qualities that are the basis for building a 'healthy identity": a good self-esteem starts from these elements. In addition, meditation increases the awareness of each muscle and muscle fibre allowing you to understand your body, thus avoiding unnecessary injury but also helping to train within the right limits.
The Importance of Mindfulness & Sport Meditation
Meditation is a powerful tool, useful both for body and mind. Numerous researches show how meditation speeds up the ability to recover from injuries, improves cognitive and concentration skills and reduces stress and anxiety for officials.
For about 30 years, experts in the field have been studying the beneficial effects of one of the most popular forms of meditation, mindfulness meditation, for those who concentration would seem more important, such as referees. In general, scientific research, more than empirical research – which requires very long periods, has correctly evaluated the possible advantages of mindfulness meditation.
Mindfulness has scientifically demonstrated its effectiveness in the treatment of specific psychological conditions such as stress, anxiety, depression and chronic pain. In recent years, the focus has been on the psychophysical benefits and therefore also on possible improvements in athletic performance. For many years, we have been trying to understand the real correlation between sports performance and mental clarity: how much the mind affects the results and especially, in the event of a positive outcome, how to improve them.
Competition Amongst Referees Increasingly Depends on Psychological Factors
Results are pushing officials to ever-higher standards, forcing them to perform always better. This results in ever-increasing mental and physical pressure. Consequently, psychology in refereeing must improve and progress, to find new methods and tools to cope with the stress to which officials are subjected. Sports psychology has long changed its performance-oriented approach, steering toward others that allow new and healthier ways to deal with negative thoughts, fears and mental obstacles.
The classic methods for improving refereeing performance are based on the assumption that to increase performance, it's necessary to decrease negative thoughts or mental states. As a result, there is room for those positive mental states that give greater security and self-esteem. Sports psychology has focused on controlling these negative states using techniques such as:
Goal setting
Positive self-talk
Arousal control
In 1993, doctors Gould, Eklund, and Jackson analysed the approach to competition various athletes adopted during the 1988 Olympics.
Most wrestlers, for example, used strategies to control negative thoughts, block distractions or even positive self-talk.
About 4 athletes out of 10 applied breathing or relaxation techniques, to have more control over their emotions and fears. The same percentage of athletes used visualisation techniques.
Mindfulness meditation has spread rapidly in our society, giving considerable benefits to those who practice it, as many scientific studies show.
During the same sporting event, the group of scientists also analysed the behaviours of United States skating athletes, who mainly used Positive self-talk to control anxiety and stress. The results of these studies support the thesis that negative emotions and thoughts, anxiety, anger, fear and stress have a strong impact on athletic performance in different disciplines (e.g. ice skating and fighting). They must therefore be managed in the appropriate way through increasingly refined psychological tools. How can mindfulness help to surpass the classic psychological techniques to reach a positive state of mind?
Mindfulness & Officiating: Neuroplasticity
At the heart of the Mindfulness meditation, there are 3 different conditions that must be respected: the absence of judgment, the here and now and the direct knowledge. These are distant concepts from our Western Culture. Indeed, mindfulness meditation has only now rapidly spread in our society, giving considerable benefits to those who practice it, as many scientific studies show.
"After years of wandering, Buddha settled under the Awakening Tree for one last meditation and became enlightened on dharma" (Coogan, 1998)
For example, a 2008 study on a group of 183 referees from 23 countries showed that mindfulness groups had an improvement in balance, concentration, control and awareness. To that extent, it is essential to introduce the concept of neuroplasticity, defined as the ability of the brain to modify its functional and physical anatomy in response to repeated activity requests. Researches have shown that mindfulness meditation can induce structural changes in the brain and alter the brain regions activity.
At The Third Team I work individually and in collaboration with different professionals where I have developed workshops and 1-2-1 sessions associated with Resilience and Mental Toughness Development to help referees. The workshops and 1-2-1 sessions are interactive, where referees are encouraged to open up and share their experiences to help themselves and each other.
Feel free to contact me if you'd like to know more about my workshops or 1-2-1 sessions and how I could help you or your officials.
Best Wishes,

Nathan Sherratt
Referee Educator & Managing Director of The Third Team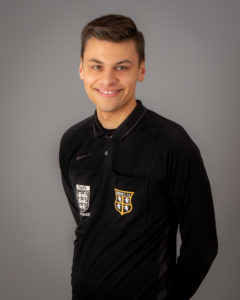 Nathan Sherratt, Referee Educator, Resilience Trainer and Managing Director of The Third Team.  A Mental Toughness Practitioner based in County Durham, North East England.