"The intimidation factor" is a common challenge for many officials. Some players, club officials and spectators will seek to get a mental edge by taking you out of your game.
Intimidation takes many forms such as:
Discrediting you before a game
Running at and surrounding you after a decision
Delaying the restart of play
Staring at you or invading your personal space
No matter what form the intimidation comes in, the aim is the same, to try to get in your head and take your focus away from refereeing the game. When you succumb to intimidation, you become agitated, angry and anxious which eats away at your confidence. If you focus on the behaviour of player(s), spectator(s) or club official(s) then you are not attending to what you need to do to perform at your peak and deliver the game to the best of your ability. Intimidation challenges an referee's level of mental toughness. Consider this, if you can learn the power of focus, you can turn the attempts of anyone involved in your fixture at intimidation to work in your favour.
Intimidation isn't exclusive to officials and was clear for all to see prior to the semi-final heat of the 200 butterfly at the 2016 Olympic Games in Rio De Janeiro. Defending Olympic champion, Chad le Clos, gave his all to intimidate and gain a psychological advantage over his rival, Michael Phelps, the most decorated Olympian of all time. Le Clos shadowboxed in front of Phelps as the two were mentally preparing for their semi-final showdown.
"I just had music going on in my head. I had thoughts going on in my head, spitting water a little bit all over the place, so I was in my own zone." – Michael Phelps, Twenty Eight-Time Olympic Medallist
Phelps had tunnel vision as he stared forward and listened to his headphones. At one point, Phelps couldn't help but notice le Clos' behaviour, but Phelps used the intimidation as motivation. Phelps used the intimidation attempt to fuel his performance rather than allowing his emotions to span out of control.
"There was so much emotion and so much build up for that race. I don't want to say it's revenge, but that's what it was. There wasn't a shot in hell I was losing that race and if I did I was leaving everything in the pool." – Michael Phelps, Twenty Eight-Time Olympic Medallist
Not only did Phelps win the semi-final, beating le Clos by over a second. He went on to take the gold medal winning the final by 4-hundredths of a second. Intimidation is used because it works for some, but as Michael Phelps proved, it doesn't have to work on you.
How can you turn intimidation into motivation?
Firstly, you should realise that players, spectators or club officials see your match control as a threat or there would be no need for them to seek an edge through intimidation.
Secondly, you need to pay attention to getting ready to officiate at your highest level. What is your game plan? What should you focus on in each moment? Go through your pre-match routine.
Finally, if players, spectators or club officials see that their behaviours are not working, soon those antics will reduce in frequency or stop.
Tips for turning intimidation into motivation:
Focus your attention away from the distraction. Pick a neutral point in the match environment or, if you can, close your eyes and listen to music or review your game plan.
Additionally, remind yourself that you have the edge because players, spectators or club officials definitely view you as a threat. Let those involved in your game burn out their energy while you maintain a sense of calmness.
At The Third Team I work individually and in collaboration with different professionals where I have developed workshops associated with Resilience and Mental Toughness Development to help referees. The workshops are interactive, where referees are encouraged to open up and share their experiences to help each other.
Feel free to contact me if you'd like to know more about my workshops and how I could help you or your officials.
Best Wishes,
Nathan Sherratt
Referee Educator & Managing Director of The Third Team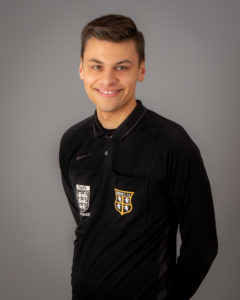 Nathan Sherratt, Referee Educator, Resilience Trainer and Managing Director of The Third Team.  A Mental Toughness Practitioner based in County Durham, North East England.