Every referee, in every country and at every level, experiences a crisis of confidence at some point in their career. Whether it is being stood down from a round of fixtures, being demoted, going through a poor run of form or having a particularly bad day, all of these defining moments can ruin an official's confidence. If you find yourself in this position currently, you are not alone. There are many who are find themselves in this position too.
You can decide to continue down the path of low confidence, poor performance and feeling miserable but you have the choice to decide to take a different road. Make no mistake about it, the different road is not an easy downhill ride to supreme, eternal confidence. Making the choice to improve your refereeing confidence requires effort and vigilance. If you really think about it, you are not ultimately choosing to take a different path as much as you are committing to a more gratifying destination.
The problem many officials face is that they experience a bump in the road and then get stuck in so much self-defeating negative emotion that they lose the emotional energy and motivation to make a positive change. Low confidence will remain low and lead to further poor play if you never do something about it. That is why the mental game skill of confidence is so important for all referees. In fact, confidence is the number one reason that officials seek out help from sport psychologists and resilience trainers.
Many athletes in other sports experience "crisis of confidence" moments, for instance National Hockey League side, Philadelphia Flyers defenceman, Andrew MacDonald who signed a six-year $30-million contract prior to the 2013 season. MacDonald played so poorly at the start of the 2015 season, that not only did he lose game time, he was demoted to the American Hockey League side, the Lehigh Valley Phantoms for 43 games. Despite the humiliation of going back to the development league, MacDonald remained determined to earn his place back. MacDonald focused on building his confidence and was rewarded when the Flyers called him back to help the team on their late push into the playoffs.
"I think I just had a bit more confidence with the puck. Down there [with the AHL Phantoms], I think I was just able to reset things and get back to the way I'm capable of playing." – Andrew MacDonald, former Philadelphia Flyers Defenceman
MacDonald gives us a great pearl of wisdom when it comes to confidence. He was able to differentiate between a stint where his play was not up to his standards and what his true capabilities are as a hockey player. This differentiation helped MacDonald put things into perspective and work to regain his confidence.
"It's just a situation where I had to put it all behind me. I know what I'm capable of, what level of play I'm capable of. Clearly, my first year, that wasn't me and my game."– Andrew MacDonald, former Philadelphia Flyers Defenceman
MacDonald learned something valuable about confidence. If you work for confidence, then confidence will work for you.
How can I overcome my confidence crisis?
When officiating below your normal standard, you need to take time to determine the actual cause. Ask yourself, "Did I lose my ability or did I lose my confidence?" Or, "Do I need to improve my commitment to training?"  If your below par performances are due to lower confidence, then boosting your confidence will get you back on track and refereeing to your potential.
At The Third Team I work individually and in collaboration with different professionals where I have developed workshops associated with Resilience and Mental Toughness Development to help referees. The workshops are interactive, where referees are encouraged to open up and share their experiences to help each other.
Feel free to contact me if you'd like to know more about my workshops and how I could help you or your officials.
Best Wishes,
Nathan Sherratt
Referee Educator & Managing Director of The Third Team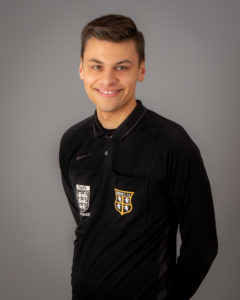 Nathan Sherratt, Referee Educator, Resilience Trainer and Managing Director of The Third Team.  A Mental Toughness Practitioner based in County Durham, North East England.