Do you find you become more and more frustrated by your inability to referee above the expected standard? Does it feel like each time that you step across the white line you fall short of your goal and it seems like failure? Every official has a goal. In fact, referees are constantly told of the importance of goals for achieving success, such as climbing the ladder.
But for many officials, each missed opportunity to perform well is filled with frustration and discontent. These referees often question their ability and worth as officials when they fall short of their goals. The reason for such a negative reaction is that these referees are solely focused on their marks. Maybe, you are saying to yourself, "Of course I am focused on my mark, that's what the table system is all about."
While the importance of having a goal cannot be overstated, the key to goal attainment is to focus on the process of achieving your goal. This is called goal getting. Focusing on the process is like a trial-and-error approach. Every time you are observed the process provides feedback that is beneficial in the pursuit of your ultimate goal, for example, achieving a promotion up the refereeing ladder. Being committed to the process allows you to make adjustments to your training, style and your mental approach to officiating matches while sustaining your motivation. Having a focus on the process helps you learn faster, moves you closer to your goals and fosters mental toughness by increasing your ability to work through adversity.
Taking a Leaf Out of The Elite Book
If you want to look to an elite sportsperson for inspiration, then look no further than the example of Rory McIlroy. At the start of his season, McIlroy wrote down his goals for the year on the back of his boarding pass to Abu Dhabi. After winning the DP World Tour Championship and the Race to Dubai crown to finish his season on a high, McIlroy talked about his seasonal goals.
"There were a couple of goals [for the season], I always put down a couple of goals that are not golf related, just things in my life that I would like to do better, as a person. There are a couple things I've been able to tick off that list. But on the golf side, I guess just one, one thing I was able to tick off, which was this [Dubai Crown]. Obviously I wanted to win majors. I wanted to improve in certain areas of my game, and didn't quite do that, but these things happen." – Rory McIlroy, World Number 4 Golfer
Here are a number of ideas you could look to incorporate into your plan when goal setting:
Write your goals down – Written goals are similar to signing a contract. They can increase your commitment to accomplishing your objectives.
Create some personal goals – Refereeing should not be your entire life. Being well-rounded reduces the amount of pressure you feel to succeed.
Celebrate your accomplishments – Give yourself credit for taking the necessary steps to reach your goal.
Make some process goals – Identify areas of your officiating (fitness, foul identification) that need improvement and can help propel you to the next level.
Adjust your goals when necessary – Unforeseen incidents happen, such as injuries. You need to be able to be flexible with your goals and roll with the punches. Equally as important, sometimes it is necessary to take some time off to assess your season.
Your end-of-season evaluation will provide essential feedback when creating next season's goals.
Rory McIlroy also spoke about feedback: 
"I really feel, even though I've had a few weeks off over the summer, I need that off period just to reflect on things, re-evaluate how I want to go forward."

– Rory McIlroy, World Number 4 Golfer
Feedback only works if you have the correct mindset, the mindset of focusing on the process instead of fretting about reaching goals.
Advice For Focusing on The Process:
Many Referees attempt to set too many goals for their season. Too many goals will pull your focus and effort into too many directions. Instead of evaluating your performance into all-or-nothing terms ("I succeeded or I failed"), rate each aspect of your performance from 1-10. Be sure to rate yourself based on the effort, not the outcome.
Then identify a few smaller goals you can improve in your performances by focusing on small things that help you succeed on a matchday and improve when training, such as consider the way you move around the field or focus on your match control.
Keep in mind that setting smaller goals are not expectations. They help direct your attention to what's important to your performance. Anyone can dream but successful referees plan and go after their goals.
At The Third Team I work individually and in collaboration with different professionals where I have developed workshops associated with Resilience and Mental Toughness Development to help referees. The workshops are interactive, where referees are encouraged to open up and share their experiences to help each other.
Feel free to contact me if you'd like to know more about my workshops and how I could help you or your officials.
Best Wishes,

Nathan Sherratt
Referee Educator & Managing Director of The Third Team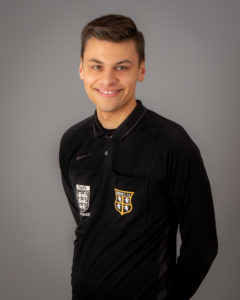 Nathan Sherratt, Referee Educator, Resilience Trainer and Managing Director of The Third Team.  A Mental Toughness Practitioner based in County Durham, North East England.