How do you feel and what do you do when your season is disrupted?
Injuries, illnesses, inclement weather, facility closures and holidays are just some of the circumstances that can disrupt a referee's training or fixtures. Circumstances beyond our control, such as an injury, can drive several thoughts that create anxiety for a referee and hurt their confidence.
For example, if you had a hamstring strain, you may have many questions regarding your training:
When can I begin training again?
Will my season be over?
Am I going to fall behind my colleagues who are still officiating?
Will a couple of weeks off affect my strength and conditioning?
Will my refereeing ability dwindle? Will my decision making be off?
How will I be able to catch up to my colleagues and how long will it take before I can get back out in the middle?
These issues are only exacerbated by the current state of the world due to the global pandemic that prevents many referees from training normally and refereeing twice or three times a week. When you focus on the things you cannot do because of an uncontrollable circumstance, it is completely normal feel lost and helpless.
When your training and fixture schedules are interrupted due to unforeseen circumstances, you can still do things to stay physically and mentally active. Case in point, the Coronavirus has turned the world upside down and has left referees facing many unknowns. The COVID-19 pandemic has disrupted training and seen fixtures postponed for every official throughout the world.
The Olympics were pushed back, international competitions were halted, professional sports seasons were postponed and much of the academy, school and grassroots youth football program was cancelled. Some referees were left feeling lost and trapped in their homes without their usual daily training plan, while other officials found creative ways to train that were exciting and empowering.
How do Those in Other Sports Cope?
We can look to other sports for an example of this, 25 year old Adam Brady, centre for the American Hockey League's Stockton Heat, had his season interrupted by the pandemic. Despite not being able to work with his teammates on the ice, Brady stayed active by turning to new methods that he may never have considered before.
"It's given me time to do more research with nutrition and get into yoga, a lot of mobility and stretching." – Adam Brady, Centre, Stockton Heat
Over the course of this pandemic we have learned that adversity can strike at any moment, causing a disruption to training and scheduled fixtures. No matter what circumstances, you can always find creative ways to train, stay sharp and be ready for the resumption of action. When you focus on what you are able to do or control, you gain a sense of empowerment, this allows you to build confidence and become a more well-rounded referee.
Training your Mind and Body
Remember, there is always something you can do to improve your officiating when you are not training or refereeing:
If you can't run, you can learn relaxation techniques.
If you are injured, you can visualise performing on a matchday.
If you are stuck indoors due to heavy snow, you can do weight training.
If you can't practice, you can work on flexibility.
This is also a good time to look into mental training as well, even when you're not refereeing or training. Be creative with ways to improve your officiating ability even when not running or at the gym.
At The Third Team I work individually and in collaboration with different professionals where I have developed workshops associated with Resilience and Mental Toughness Development to help referees. The workshops are interactive, where referees are encouraged to open up and share their experiences to help each other.
Feel free to contact me if you'd like to know more about my workshops and how I could help you or your officials.
Best Wishes,

Nathan Sherratt
Referee Educator & Managing Director of The Third Team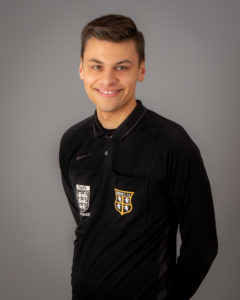 Nathan Sherratt, Referee Educator, Resilience Trainer and Managing Director of The Third Team.  A Mental Toughness Practitioner based in County Durham, North East England.