Anxiety and worry are some of the biggest performance challenges for active referees, young and old.
Anxious officials often make such comment as:
"I have great law knowledge but fail to apply them in games."
"I get so nervous prior to games that I feel sick to my stomach."
"I become so anxious during fixtures that it affects my concentration."
"I always go to pieces when asked to make a key match decision at critical stage of a game."
"I get so much anxiety and nervousness that I'm losing the enjoyment I have previously gotten from refereeing."
Performance anxiety wears officials down, which can create a whole host of negative physical and mental issues that can be detrimental to your performances.
Do you or your colleagues experience physical changes on a matchday, such as an increased heart rate, difficulty breathing, tight muscles, upset stomach or feeling jumpy? Whilst the physical symptoms are difficult enough to deal with on their own, it's the mental worry that triggers these physical changes.
Negative thoughts, fear of failure, inability to deal with adversity or uncertainty, problems with focusing and the overwhelming need to be perfect are the mental triggers that can lead to performance anxiety. Additionally, referees can often stress our over their inability to manage their response to pressure situations. These officials can, on occasion, feel isolated and believe that their feelings of anxiety around a matchday are unique to them.
However, even Olympic and professional athletes can become overwhelmed by anxiety. Graham DeLaet, a 38 year-old golfer who has played PGA Tour events for the past 13 years, felt so nervous chipping and pitching while preparing for the 2016 Memorial Tournament that he decided to withdraw from the event and take a break from competing in tournaments.
"A lot of fear standing over chips shots for whatever reason. I mean it's something I've never really been through in my entire career." – Graham DeLaet, PGA Tour player
DeLaet had been playing golf for 22 years and had never experienced such crippling anxiety with a club in hand.
"I've been playing golf since I was 12 years old and this is kind of a strange thing, but I'm working through."– Graham DeLaet, PGA Tour player
He decided to work with a sport psychologist and discussed his journey to getting back on track mentally:
"I'm getting better all the time and I know that it might just take one good shot under pressure to know that it's in there and kind of change that confidence level. The rest of my game has been really, really good."– Graham DeLaet, PGA Tour player
DeLaet's experience is evidence that athletes can learn mental strategies to cope with anxiety and perform with confidence.
To help you overcome anxiety and fear, you can't just do exercises to relax. This would only be papering over the cracks and would not address the real issue(s), which is commonly related to an underlying fear of failure. It is quite possible that beneath the tension and worry that you feel, is something else you may not be aware of, such as the fear of embarrassment.
A four step plan to overcome performance anxiety:
Understand what the ultimate fear is all about. Are you afraid of the reaction to the decisions you make, for example?
Challenge yourself as to whether your fear is rational or not. Identify what is so important about it.
Learn how to embrace matchday pressure rather than fear you will make errors or disappoint others.
Appreciate the fact that the reason you put in hours of training week after week is to enjoy officiating and trust your refereeing ability!
At The Third Team I work individually and in collaboration with different professionals where I have developed workshops associated with Resilience and Mental Toughness Development to help referees. The workshops are interactive, where referees are encouraged to open up and share their experiences to help each other.
Feel free to contact me if you'd like to know more about my workshops and how I could help you or your officials.
Best Wishes,

Nathan Sherratt
Referee Educator & Managing Director of The Third Team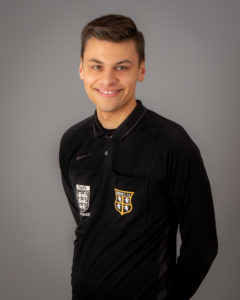 Nathan Sherratt, Referee Educator, Resilience Trainer and Managing Director of The Third Team.  A Mental Toughness Practitioner based in County Durham, North East England.