Does refereeing a team who try to bully you and your colleagues into making decisions which favour them, disrupt your strategies? Do you find yourself losing focus when faced with a team who's tactics are clearly to foul, hold, trip or push their higher skilled opponents at any given opportunity during games.
This is something that I frequently hear is a challenge from the officials, referee coaches and Referee Managers I speak to. The industrial tactics of certain teams means that with the frequency of incidents it is a huge challenge for referees to maintain a high level of match control and stay on top of every incident which takes place in a game where one team feels like they need protection afforded by the referee. Some officials fear that with one missed key match incident they'll lose total control and never be able to recover the situation.
When you focus on where the next 'dirty' tackle may come from or begin to worry about challenges of that nature you may have missed, you take the focus off refereeing your game and become hyper focused on what one team is doing around you.
Losing your focus means you lose sight of the opportunities to stamp your authority on the game, take the disciplinary action you need to, allow the game to flow fairly, earn the respect of both teams and ultimately, deliver the game successfully having maintained a good level of match control throughout.
You will be less authoritative when blowing your whistle. You may award a foul where there was not one for fear of what the aggressive team may have planned. You second guess your decisions. You are hesitant in your decision making. You make more mistakes when you are focused on the physicality of one or both of the teams.
When you focus on the industrial play by players, you feel uneasy, frustrated, and angry. You may even start making defensive decisions, awarding 50/50 decisions against one team, and give an unnecessary caution to a player. You are aware that you're being unfair. 
When throw your pre-match plans out of the window and you begin to focus on the tactics of one team, you give them a mental edge over you. 
To officiate well, you should focus on executing your game plan, recognising foul play intuitively, and trusting your ability to perform at a high level. 
From the perspective of a player, fouls are nothing new for Chelsea winger Christian Pulisic. Pulisic was fouled 11 times in his first five Premier League matches as his opponents attempted to frustrate and nullify his threat.
Pulisic has stayed focused despite the physicality and fouls posed by opposition defenders. Instead of retaliating physically, Pulisic has responded with eleven goals and ten assists in 34 games during his first season at Chelsea.
"When players start to get to know you more, watch films, see how you play, then it [the physicality] is normal. With how I play it is normal, they do anything they can to take you off your game. It is a physical league; I have been kicked a few times in CONCACAF so I am used to it. I will be alright!"

– Christian Pulisic
Pulisic remains composed in games because he focuses on his job and not the challenges from opposing players. Pulisic understands fouls are a part of the game and he realises he has been targeted in the past but sees it as a compliment.
When you manage to remain focused on yourself and your game, you take the opportunities, maintain your poise, and referee with freedom, intuitively on the field. 
Tip for Maintaining Your Focus When Officiating Teams With Bullying Tactics:
Officiating teams with bullying tactics is a mind game inside the game. Players are trying to taint your focus by getting inside your head.
Players know if you become frustrated, you may make a mistake or rush into a decision incorrectly.
You can overcome the mind games by sticking to your game plan and staying focused on refereeing your game. Focus on your objectives out in the middle, such as to deliver a game successfully, so that the players and club officials thank you afterwards and have respect for the job you've done.
If players know that they cannot rattle you, those players will become frustrated and become rattled themselves. Officiating with focus and poise can help you overcome a lot of challenges you'll face during games.
At The Third Team I work individually and in collaboration with different professionals where I have developed workshops associated with Resilience and Mental Toughness Development to help referees. The workshops are interactive, where referees are encouraged to open up and share their experiences to help each other.
Feel free to contact me if you'd like to know more about my workshops and how I could help you or your officials.
Best Wishes,

Nathan Sherratt
Referee Educator & Managing Director of The Third Team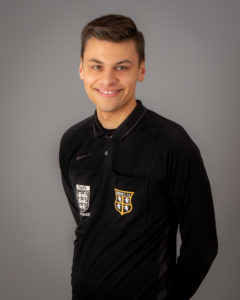 Nathan Sherratt, Referee Educator, Resilience Trainer and Managing Director of The Third Team.  A Mental Toughness Practitioner based in County Durham, North East England.